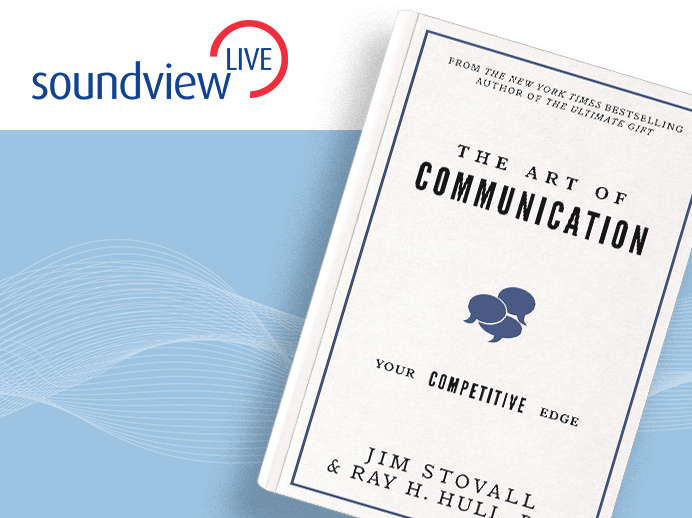 Who we are, what we believe, and everything we stand for goes from theory to reality when we communicate. In this Soundview Live webinar, The Art of Communication, Jim Stovall and Dr. Raymond Hull use their decades of combined experience, research, and natural abilities to powerfully illustrate the specifics of effective communication.
Stovall's revealing stories mixed with Dr. Raymond Hull's straightforward, factual approach combine to make this a must-listen for businesspeople, salespeople, entrepreneurs, teachers, pastors, academics, and anyone wanting to improve their lives.
About the Speaker
Jim Stovall
Jim Stovall has been a national champion Olympic weightlifter, the President of the Emmy Award-winning Narrative Television Network, and a highly sought after author and platform speaker. He is the author of the best selling book, The Ultimate Gift, which is now a major motion picture starring James Garner and Abigail Breslin.
For his work in making television accessible to our nation's 13 million blind and visually impaired people, The President's Committee on Equal Opportunity selected Jim Stovall as the Entrepreneur of the Year. He was also chosen as the International Humanitarian of the Year, joining Jimmy Carter, Nancy Reagan, and Mother Teresa as recipients of this honor.
Back to all webinars
More Webinars

The 11 Tools For Integrating Business and Life

Speaker: David Howitt

Watch

Boosting Performance and Decision Making Under Pressure

Speaker: Marc Schoen

Watch

Strike a Better Balance Between Life and Work

Speaker: Andrew Temte

39min

Watch