The Seven Mind-Sets that Drive Performance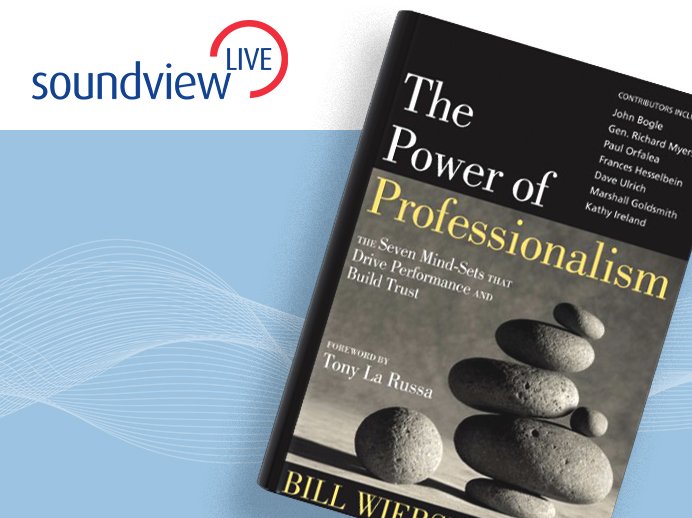 Professionalism is unique; it's the ladder upon which all other organizational virtues mount. The greater the quality of professional ideals within an organization, the greater the likelihood stakeholders will have confidence in it.
In this Soundview Live webinar, Bill Wiersma, author of The Power of Professionalism, outlines the seven key mind-sets of trusted professionals, offering a blueprint for both individuals and organizations interested in fostering a culture of professionalism.
The audio recording, video recording, and the 8-page book summary of The Power of Professionalism are all available.
About the Speaker
Bill Wiersma
Bill is the founder and principal of Wiersma and Associates. He is known as a gifted workshop leader, talented author, and trusted business consultant. Bill has a breadth of business experience spanning over 25 years. Prior to founding Wiersma and Associates, he was an Operations Director in a Fortune 100 and was later appointed CEO of an investor-owned technology company. His consulting work, which spans 10 years, includes extensive corporate experience at Pacific Gas and Electric where he was a senior organizational consultant to the Directors. Bill and his wife Holly reside in Pleasant Hill, California and are the parents of four children.
Back to all webinars
More Webinars

How to Beat the 8 Ego Traps that Derail Careers

Speaker: Jen Shirkani

Watch

How to Achieve a Life of Primary Greatness

Speaker: Breck England

Watch

Overcoming the Biases that Can Limit Women's Careers

Speaker: Jodi Ecker Detjen

Watch