The New Science of Leading Change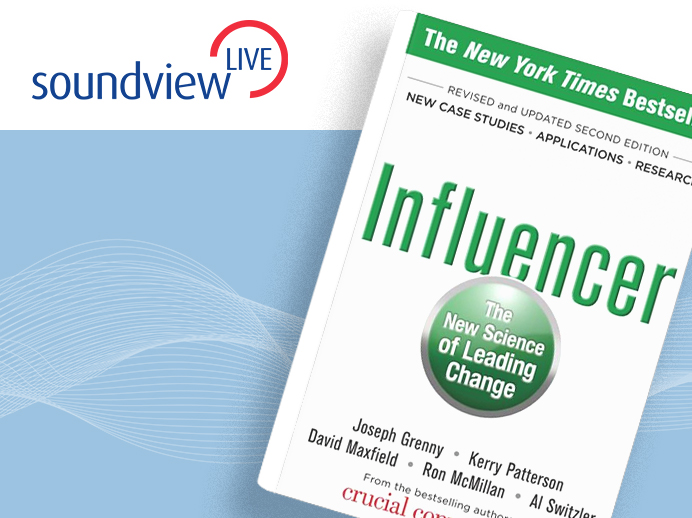 In this Soundview Live webinar, The New Science of Leading Change, you'll hear from author David Maxfield about the new research, case studies, and content featured in the latest edition of Influencer. David teaches influence strategies for achieving profoundly better results by changing bad and entrenched human habits. And he examines, in detail, why people do what they do and what it takes as a leader to help them act differently.
Available: audio recording, video recording, summary of Influencer
About the Speaker
David Maxfield
David Maxfield is a member of the Soundview Author Network which provides detailed information on author's schedules as well as media content provided by the author. You can view David Maxfield's author network page here
David Maxfield is vice president of research at VitalSmarts, an innovator in organizational performance and corporate training. He is also the coauthor of the New York Times bestseller, Influencer. Award-winning training products resulting from his work have been used successfully by more than 300 of the Fortune 500 companies and have taught more than 2 million people worldwide.
David did his doctoral work at Stanford University and has led research and consulting projects involving dialogue skills, performance improvement, and conflict management for more than twenty-four years. At VitalSmarts, his roles include research, consulting, speaking, training and product development. David is a frequent speaker at regional and national conferences.
Back to all webinars
More Webinars

Strike a Better Balance Between Life and Work

Speaker: Andrew Temte

39min

Watch

A Game Plan for Rebounding in Life

Speaker: Dave Martin

Watch

7 Practices for Building a Resilient Learning Organization

Speaker: Holly Burkett

Watch