The 5 Key Actions to Creating Smart Trust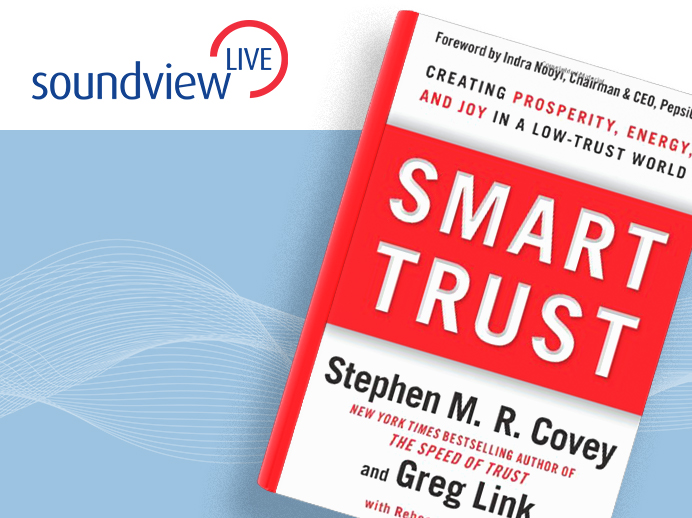 In this Soundview Live webinar, The Five Key Actions to Creating Smart Trust, Stephen M.R. Covey explains that trust has become the new currency — the critical competency for individuals, teams, organizations, and even countries. He helps you develop the judgment to recognize and extend Smart Trust deliberately so that you can enjoy greater prosperity, energy, and joy in all dimensions of life.
Smart Trust enables you to operate with high trust in a low-trust world by minimizing risk and maximizing possibilities.
The audio recording, video recording, and an outline of the presentation will be available to listen to or download from your Online Library immediately after check-out.
About the Speaker
Stephen M.R. Covey
Stephen M. R. Covey is cofounder and CEO of CoveyLink Worldwide. He is the former CEO of Covey Leadership Center, which, under his stewardship became the largest leadership development company in the world. A Harvard MBA, he joined Covey Leadership Center as a Client Developer and later became National Sales Manager and then President & CEO.
Under Covey's direction, the company achieved Inc. 500 status and recognition. He nearly doubled revenues to over $110 million while increasing profits by 12 times. During that period, both customer and employee trust reached new highs and the company expanded throughout the world into over 40 countries. The company was valued at only $2.4 million when Covey was named CEO, and within three years, he grew shareholder value to $160 million in a merger he orchestrated with then Franklin Quest to form FranklinCovey.
Over the years Covey has gained considerable respect and influence with executives and leaders of Fortune 500 companies, as well as with mid- and small-sized private sector and public sector organizations. Clients recognize his unique perspective on real world organizational issues based on his practical experience as a former CEO, and now he is sought after as a speaker and advisor on trust, leadership, ethics, and high performance. He advocates that nothing is as fast as the speed of trust and that the ability to establish, grow, extend, and restore trust with all stakeholders is the critical leadership competency of the new global economy.
Stephen is the author of many book on the topic of trust, including The Speed of Trust, Smart Trust, and Trust & Inspire.
Covey resides with his wife and children in the shadows of the Rocky Mountains.
Back to all webinars
More Webinars