Managers in the Spotlight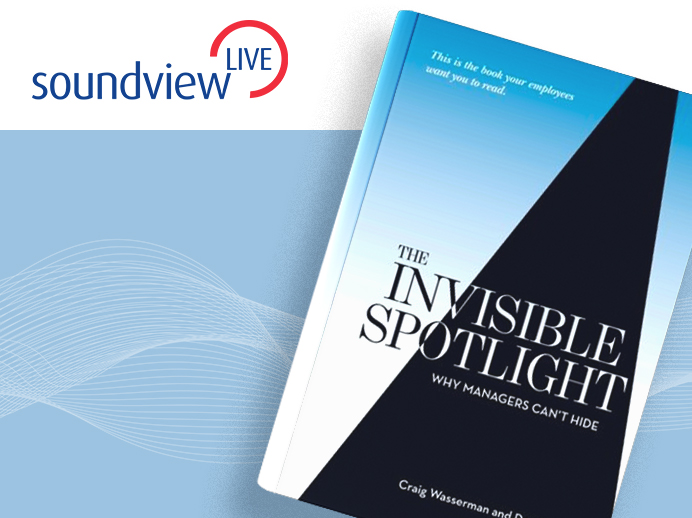 Whether managers appreciate it or not, they are a central and dominant influence in their employees' lives. Employees spend countless hours watching, listening, thinking about, talking about, and trying to please their bosses. This is what is meant by the invisible spotlight.
In this Soundview Live webinar, Managers in the Spotlight, Doug Katz and Craig Wasserman make it possible for you to see the invisible spotlight, to see the payoff in being every mindful of the impact you have on your management relationship. They show you how a conscious, considered approach to creating the foundation of these relationships is essential to your effectiveness and your employees' sense of satisfaction and success.
About the Speaker
Craig Wasserman
As a management consultant, trainer and lecturer for the past three decades, Craig Wasserman has left consultant-speak behind to focus in common sense ways on the uneasy, unfamiliar moments that managers encounter as they develop relationships with their employees.
Craig earned his degrees from The American University in Washington D.C.: a Bachelor of Arts in Organizational Developmen, a Masters of Arts in Education, and a Doctor of Philosophy in Counseling Psychology. He followed these studies with a year's Post Doctoral Internship at the University of Maryland, and immediately cofounded Wasserman/Katz.
Today Craig splits his time between Steamboat Springs, Colorado and Houston, Texas with Kathleen, his wife of twenty seven years.
Doug Katz
For four decades, Doug has been advising managers on the most intelligent ways to steward their organizations and navigate their relationships with employees and colleagues.
In addition to his consulting work from California to Washington, DC, Doug is often retained to facilitate meetings and conferences addressing controversial issues affecting an organization or community.
Doug earned Bachelor of Arts and Master of Arts degrees in Clinical Psychology from The American University in Washington, DC. He completed a clinical internship, upon graduation served as an editorial consultant with a publisher of academic texts, and soon after co-founded Wasserman/Katz. Doug lives in San Diego, California with his wife of thirty five years.
Back to all webinars