Getting Results through Accountability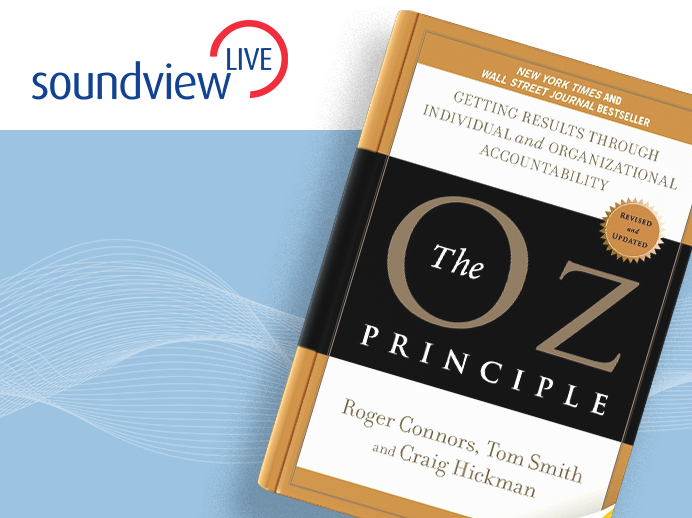 In this Soundview Live webinar, Getting Results through Accountability, Roger Connors demonstrates the vital role of accountability in the achievement of business results and the improvement of both individual and organizational performance.
Connors will show how to overcome The Blame Game that is so prevalent in organizations today. By taking the Steps To Accountability and helping people See It, Own It, Solve It, Do It, Connors helps people take accountability and move Above The Line to take ownership for overcoming obstacles and getting results.
About the Speaker
Roger Connors
Roger has accumulated extensive experience in working with over a hundred senior executive teams, as well as with thousands of managers and leaders in almost all major industries. His work includes long-term and short-term consulting engagements (from a few months to several years), speaking engagements, national sales meetings, workshops and speeches. He has also won respect as a trusted advisor to senior executives, having personally coached hundreds of managers and leaders. Roger is recognized as a worldwide expert on the topic of workplace accountability and bring extensive expertise to helping management teams facilitate large-scale Cultural Transition through their Accountability Training methodologies and models. Roger is well received as an entertaining and provocative speaker and is a highly respected facilitator of senior executive groups and management teams.
He has co-authored the classic New York Times bestselling book, The Oz Principle: Getting Results Through Individual And Organizational Accountability, ranked year after year as one of the top five bestselling business books in the leadership and performance categories. He
has also co-authored the bestselling Journey To The Emerald City: Achieve A Competitive Edge By Creating A Culture Of Accountability, and the New York Times bestsellers, How Did That Happen? Holding People Accountable for Results the Positive, Principled Way, and the recent release Change the Culture, Change the Game: The Breakthrough Strategy for Energizing your Organization and Creating Accountability for Results.
Roger is a member of the American Society for Training & Development. He holds a Master of Business Administration degree with Distinction from The Marriott School of Management at Brigham Young University and a Bachelor of Science degree in Accounting from Brigham Young University. Roger and his wife, Gwen, have five children and live in Alpine, Utah.
Back to all webinars