How to Retain Your Rookie Smarts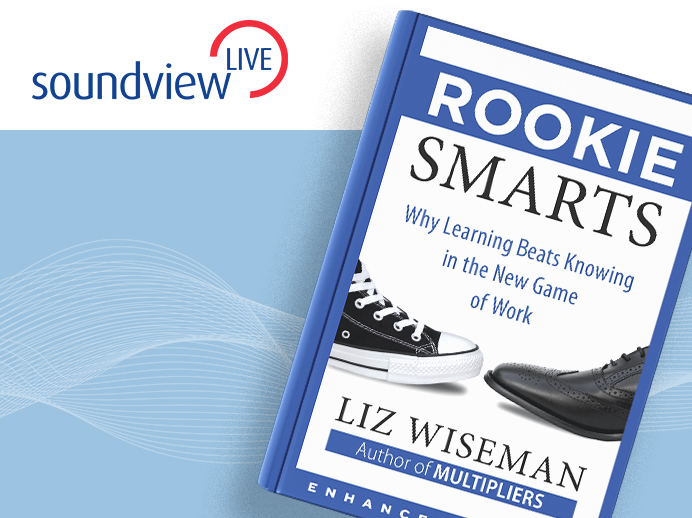 In a time of constant change, success depends on seeing the world through rookie eyes, and in this Soundview Live webinar, How to Retain Your Rookie Smarts, Liz Wiseman explains why we are often at our best when we are doing something for the first time – and how to reclaim and cultivate this curious, flexible, youthful mindset called Rookie Smarts.
She also identifies a breed of leaders she refers to as "perpetual rookies." Despite years of experience, they retain their rookie smarts, thinking and operating with the mindsets and practices of these high-performing rookies. Rookie Smarts isn't just for professionals seeking personal renewal; it is an indispensable resource for all leaders who must ensure their workforce remains vital and competitive.
About the Speaker
Liz Wiseman
Liz Wiseman teaches leadership to executives around the world. She is the President of the Wiseman Group, a leadership research and development firm headquartered in Silicon Valley, California. Some of her recent clients include: Apple, Dubai Bank, Genentech, Nike, PayPal, Salesforce.com and Twitter. Liz has been listed on the Thinkers50 ranking and named one of the top 10 leadership thinkers in the world.
A former executive at Oracle Corporation, she worked over the course of 17 years as the Vice President of Oracle University and as the global leader for Human Resource Development. She is a frequent guest lecturer at BYU, Harvard, the Naval Postgraduate School, Stanford and Yale. Liz holds a Bachelor's degree in Business Management and a Masters of Organizational Behavior from Brigham Young University.
Back to all webinars
More Webinars

How the Best Leaders Make Everyone Smarter

Speaker: Liz Wiseman

Watch

Communication Techniques for Women in the Workplace

Speakers: Alton Harris, Andrea Kramer

Watch

The Power of Awareness in Business and Life

Speaker: Bob Rosen

Watch