How to Make Your Company Recession Resistant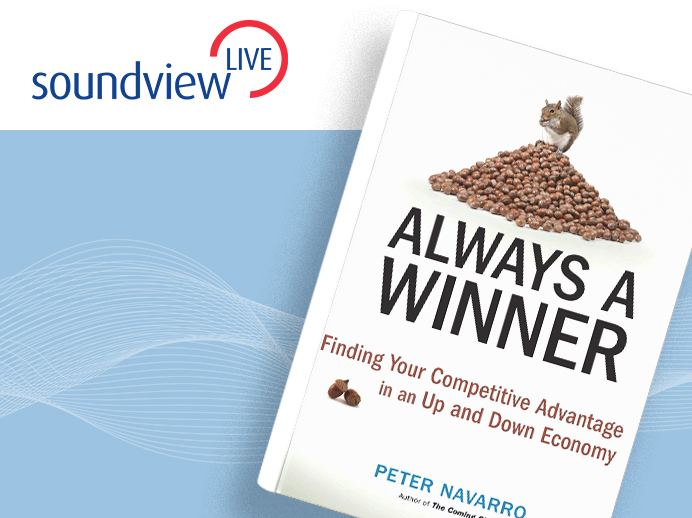 In this Soundview webinar Peter Navarro shows you how to "always be a winner" over the course of the entire business cycle — not just when economic times are good. To do this job, he arms you with the strategies, tactics and forecasting tools you will need to profitably manage your organization through the business cycle seasons — from the best of boom times to the worst of recessionary times.
Peter Navarro's call to action is simple: if you really care about your organization, you will learn to strategically manage the business cycle to create a powerfully competitive and sustainable advantage over your rivals. In the end, you will attain the superior financial performance sought by every executive team in the world.
The MP3 recording and slides from this event as well as a book summary for Always a Winner will be available to listen to or download from your Online Library immediately after check-out.
About the Speaker
Peter Navarro
Peter Navarro is a business professor at the University of California, Irvine, and author of the bestselling investment book If It's Raining in Brazil, Buy Starbucks. His work has appeared in a wide range of leading publications, including BusinessWeek, the Los Angeles Times, New York Times, Wall Street Journal, Harvard Business Review and Sloan Management Review. A widely sought-after, gifted public speaker, he has appeared frequently on Bloomberg TV, CNN, CNBC, NPR, and all three major network news shows. His current research focuses on issues ranging from managing growth to regulation and trade advantage.
Peter Navarro's weekly newsletter on the economy and stock market is available at www.peternavarro.com.
Back to all webinars
More Webinars

How Leaders Can Move Teams from Isolated to All In

Speakers: Steven Van Cohen, Ryan Jenkins

44min

Watch

Doing Business in the Age of Turbulence

Speakers: Philip Kotler, John Caslione

Watch

You Can Enhance Employee Motivation in 10 Minutes by Friday

Speaker: Gregg Lederman

Watch