How Latecomers Can Grow to Dominate New Markets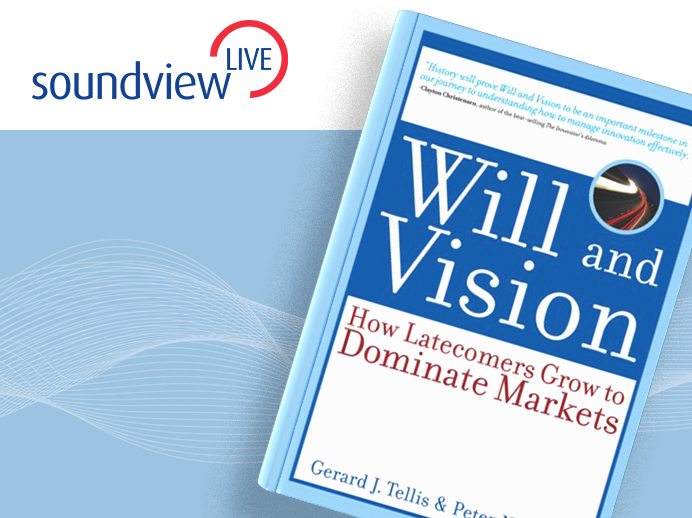 This webinar from Soundview features the research of Gerard Tellis and Peter Golder as presented in their book Will and Vision. Drs. Tellis and Golder debunk the "pioneering" or "first mover" business theory that the organization that enters the market first will dominate that market. Historical research and current examples lend credence to the speakers' proposition that anyone can take on the current leader and win the market.
Two intangibles that every successful market invader has are Vision, a clear picture of how the organization will better serve the market, and Will, the determination to succeed no matter what seems to block the way.
The speakers provide useful, how-to information on how you can start invading established markets yourself while motivating you to rethink your marketing strategy and objectives. Can you afford to miss the opportunity to discuss these myth-breaking, trend-setting ideas with the originators?
The MP3 recording and slides from this event as well as a book summary for Will and Vision will be available to listen to or download from your Online Library immediately after check-out.
About the Speaker
Gerard Tellis
Gerard Tellis holds the Jerry & Nancy Neely Chair in American Enterprise at the Marshall School of Business, the University of Southern California, Los Angeles, CA. He has a Ph.D. in Business Administration from the University of Michigan, Ann Arbor, MI. Previously he worked as a Sales Development Manager for Johnson & Johnson, where he was responsible for brand management, new product introduction and sales promotion.
Dr. Tellis' specializes in market entry, technological innovation, new product growth, and advertising. He has published over 40 papers and books. His latest book titled, Will and Vision: How Latecomers Grow to Dominate Markets, (co-authored with Peter Golder) refutes the common belief in first mover advantages and explains the real causes of enduring market leadership.
His papers have appeared in leading scholarly journals, including the Journal of Marketing Research, Journal of Marketing, Marketing Science, Strategic Management Journal, Sloan Management Review, and Journal of Advertising Research. Many of his articles have won honors, including three of the most prestigious awards in the field of Marketing: the Harold D. Maynard, William F. Odell, and Frank M. Bass awards. He has been on the editorial review boards of the Journal of Marketing Research, Journal of Marketing, and Marketing Science for several years.
Peter N. Golder
Peter N. Golder is Associate Professor of Marketing at New York University's Stern School of Business.
He holds a Ph.D. in Business Administration from the University of Southern California
and a B.S. from the University of Pennsylvania. Prior to earning his Ph.D., he worked for Conoco and Northrop.
Professor Golder's research focuses on market pioneering, new products, long-term leadership, and branding. His papers have been published in the top scholarly journals, including Sloan Management Review, Journal of Marketing Research, and Marketing Science.
His research has been featured in The Wall Street Journal several times, as well as in The Economist and Advertising Age.
Also, it has been recognized with three of the marketing discipline's most prestigious best-paper awards. He has appeared on CNN and advised large and small companies on issues
related to his research specialties.
Back to all webinars
More Webinars

How to Build a Culture for Market Dominance

Speaker: Gerard Tellis

Watch