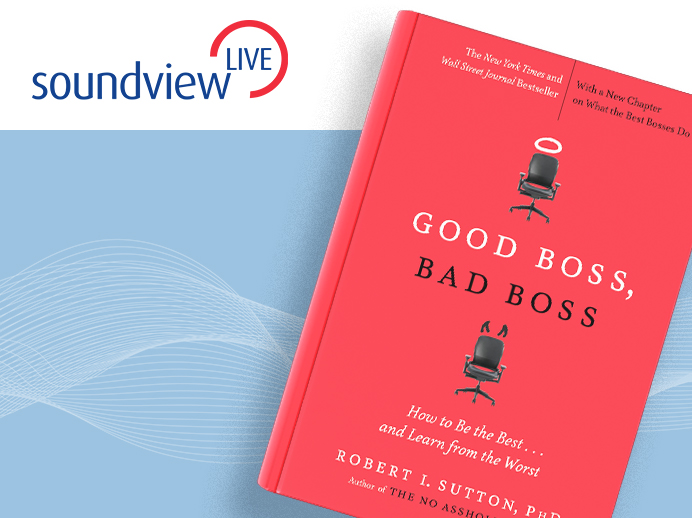 In this Soundview Live event, Dr. Sutton applies his commonsense approach to show how the great bosses in our world differ from those who are just so-so, or, worse yet, downright inept.
The MP3 recording and slides from this event will be available to listen to or download from your Online Library immediately after check-out.
About the Speaker
Robert I. Sutton
Robert Sutton is Professor of Management Science and Engineering in the Stanford Engineering School, where he is Codirector of the Center for Work, Technology, and Organization, an active researcher and cofounder in the Stanford Technology Ventures Program, and a cofounder and active member of the new "d.school," a multi-disciplinary program that teaches and spreads "design thinking." He is also an IDEO Fellow and a Professor of Organizational Behavior, by courtesy, at Stanford Graduate School of Business.
Sutton received his PhD in Organizational Psychology from The University of Michigan and has served on the Stanford faculty since 1983. He also taught at the Haas Business School and was a Fellow at the Center for Advanced Study in the Behavioral Sciences during the 1986-87, 1994-95, and 2002-03 academic years. He has served on the editorial boards of numerous scholarly publications, and as an editor for the Administrative Science Quarterly and Research in Organizational Behavior. His honors include the award for the best paper published in the Academy of Management Journal in 1989, the best paper published in the Academy of Management Review in 2005, induction into the Academy of Management Journal's Hall of Fame, the Eugene L. Grant Award for Excellence in Teaching, the McGraw-Hill Innovation in Entrepreneurship Pedagogy Award, the McCullough Faculty Scholar Chair from Stanford, and selection by Business 2.0 as a leading "management guru" in 2002.
Sutton studies the links between managerial knowledge and organizational action, evidence-based management, and innovation, and organizational performance. He has published over 100 articles and chapters in scholarly and applied publications. He has also published 8 books and edited volumes. He (and Jeffrey Pfeffer) wrote The Knowing-Doing Gap: How Smart Firms Turn Knowledge Into Action (Harvard Business School Press, 2000), which was selected as Best Management Book of 2000 by Management General. His most recent book is Weird Ideas That Work: 11 ½ Practices for Promoting, Managing, and Sustaining Innovation (The Free Press, 2002), which was selected by the Harvard Business Review as one of the 10 best business books of the year and as a breakthrough business idea.
Back to all webinars
More Webinars