Discover What Your Top Performers Do Differently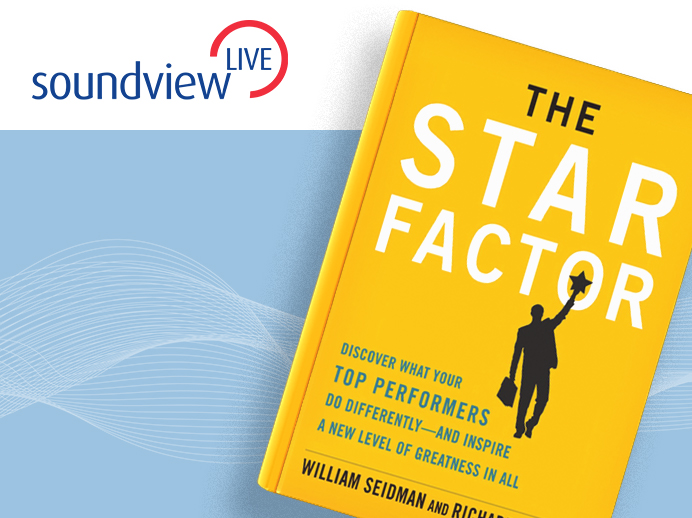 In this Soundview Live webinar, Discover What Your Top Performers Do Differently, William Seidman and Richard Grbavac show how everyone can be a star, delivering a unique system for identifying what makes your top performers different – and how to harness their passion and sense of purpose so that others are inspired to become more like them. With step-by-step instructions and real-world examples, Seidman and Grbavac reveal how to transform that passion and knowledge into engaging learning tasks that make everyone a top performer.
About the Speaker
Richard Grbavac
Since joining Cerebyte in 2002, Rick Grbavac has worked with a wide variety of clients including Sears, Advance Auto Parts and Maurice's in the retailing sector, Strategic Financial and QLKey in the financial sector and other best practice implementations including product development, IT project management, construction, manufacturing and medical. He comes from a background in sales, marketing and organizational development where he was involved in managing sales groups, and re-engineering corporate structure and culture at industry-leading organizations such as Jantzen and VF Corporation. He was also a senior partner in the business development firm of Cason, Grbavac & Murphy.
Rick's background in developing marketing planning systems prepared him to quickly understand the power of Cerebyte's technology. Dedicated to helping clients dramatically improve their operations, Rick has become a trusted advisor and partner in spreading best practices and positive deviant wisdom to our client base.
William Seidman
Dr. William Seidman is a recognized thought leader and expert on how to develop and sustain high performing organizations. In particular, Dr. Seidman is renowned for understanding the processes required to discover and use expert wisdom to create extraordinary organizational performance.
Dr. Seidman's doctorate is from Stanford where he spent eight years studying management decision-making. As part of his doctoral dissertation, he developed a groundbreaking technique for analyzing management decision-making. The technique is the core of Strategy to Action methodology and has been recognized by KMWorld, The Innovation Center, IDC and others.
Back to all webinars
More Webinars