Building a World Class Organization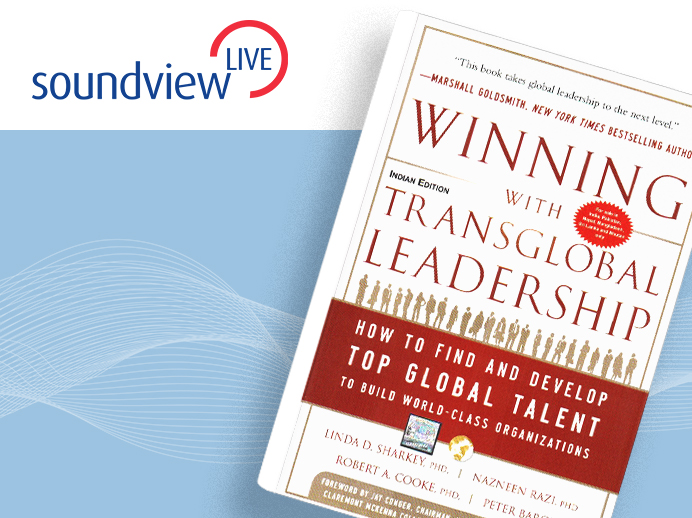 Operating and expanding business units offshore, selling in foreign markets, and managing global supply chains are just three of the many challenges facing organizations in this new global economy.
This Soundview Live webinar, Building a World Class Organization, taps the knowledge and experience of Drs. Linda Sharkey, Nazneen Razi and Robert Cooke to deliver an easily implemented process for accessing your organization's global capability and developing the leaders who will drive success.
Available: audio recording, video recording, slides, summary of Winning with Transglobal Leadership
About the Speaker
Robert A. Cooke, Ph.D.
Mr. Robert Michael Sean Cooke, Robbie has been the Chief Executive Officer and Managing Director of Wotif.com Holdings Limited. since October 23, 2007. Mr. Cooke served as the Chief Operating Officer of Wotif.com Holdings Limited and also served as its Secretary until September 2008 and also served as its Company Secretary. He served as the Strategist and General Counsel at UNiTAB Limited. Prior toUNiTAB, he held commercial, corporate finance and legal roles at Santos, … HSBC James Capeland MIM Holdings Limited. He has been Director of Wotif.com Holdings Limited since October 23, 2007. Mr. Cooke holds a Graduate Diploma in Company Secretarial Practice and is admitted as a solicitor of the Supreme Court of Queensland. He holds a Bachelor of Commerce and a Bachelor of Law (Hons), both from the University of Queensland. He is an associate member of Chartered Secretaries Australia and of the Institute of Chartered Secretaries and Administrators.
Nazneen Razi, Ph.D.
Dr. Nazneen Razi has served as Executive Vice President and Chief Human Resources Officer of Jones Lang LaSalle Incorporated (Formerly, known as Lasalle Partners Inc) since February 2004. Dr. Razi served as an Executive Vice President and Chief Administrative Officer of Comdisco Holding Company Inc. since April 2002. From April 2002 to January 2004, Dr. Razi served as an Executive Vice President and Chief Administrative Officer of Comdisco, a provider of technology services, … where she was responsible for human resources worldwide. She served as Senior Vice President, Human Resources of Comdisco Inc. since joining it in November 2000. Prior to Comdisco, she held various positions within CNA Insurance Companies, including Senior Vice President and Senior Human Resources Officer for CNA Risk Management. She holds Bachelor Degrees in Political Science, History and English literature from St. Francis College, India, a Masters Degree in English literature from Osmania University, India, and an M.B.A. in Operational Management and Organizational Behavior and a Ph.D. in Organizational Development from Benedictine University, Illinois.
Linda D. Sharkey, Ph.D.
Dr. Linda Sharkey is a HR Executive and Business Strategist who is an internationally recognized author and expert on leadership development and talent management. Her primary focus is coaching and developing leaders and teams and driving talent and workforce planning initiatives that support productivity and company growth. She is CEO of Tomlin Sharkey & Associates, a boutique consultancy focused on leadership, cultural and organizational transformation. She is also Founding Member of the Marshall Goldsmith Group a premier executive coaching organization.
Linda was Chief Talent Office and VP of People Development for HP where she was responsible for executive development, succession planning, talent management, performance management, and workforce planning and organization improvement. Before joining HP she held Executive Human Resource positions at GE. She designed a high impact leadership development initiative named a best practice by Jack Welch.
Dr. Sharkey is a frequent speaker and widely published in the area of leadership and organization development, culture change and executive coaching. Her most recent book Winning with Transglobal Leadership: How to Develop top Global Talent to Build World Class Organizations which she co-authored has been recognized as one of the "top 30 business books for 2012" by Soundview. She has co-authored an acclaimed book on talent development and data analytics entitled Optimizing Talent: What Every Leader and Manager Needs to Know to Sustain the Ultimate Workforce. Her clients include such companies as NetApp, Genetech, Bell Canada, Sodexo, Boeing, HCHS, Reckett Benckiser, Corning, Jones Lang LaSalle, PricewaterhouseCoopers and Sun Products.
Back to all webinars
More Webinars

Transformational Leadership – Solving our Leadership Crisis

Speaker: Douglas Williamson

Watch

4 Non-Obvious MegaTrends That Matter After A Pandemic

Speaker: Rohit Bhargava

Watch

Reinvent Yourself as a Leader Before Your Business Outruns You

Speakers: John Hillen, Mark D. Nevins

Watch