Why Investing in Diversity & Inclusion Pays Off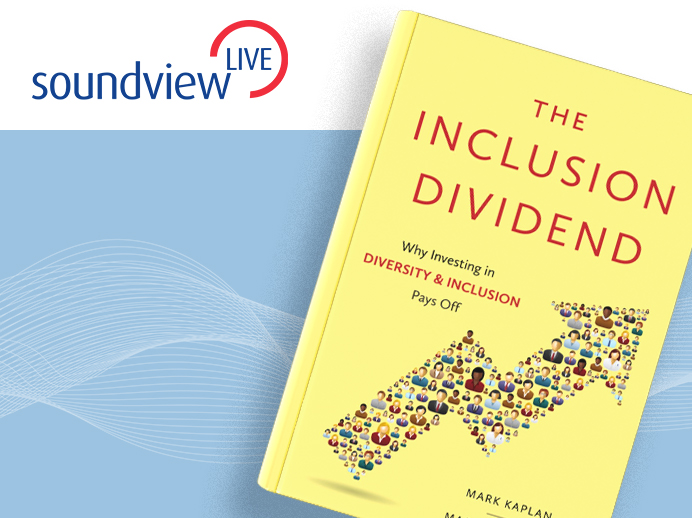 In this Soundview Live webinar, Why Investing in Diversity & Inclusion Pays Off, Mark Kaplan and Mason Donovan provide a framework to tap the bottom line impact that results from an inclusive culture — the "inclusion dividend." Most leaders have the intent to be inclusive, however translating that intent into a truly inclusive outcome with employees, customers and other stakeholders requires a focused change effort. The authors explain that challenge and provide straightforward advice on how to achieve the kind of meritocracy that will result in a tangible dividend and move companies ahead of their competition.
Available: audio recording, video recording, summary of The Inclusion Dividend
About the Speaker
Mason Donovan
Mason Donovan is Chief Sales Consulting Officer for The Dagoba Group. Mason was Managing Director of Client Solution Sales for Personified, a human capital consulting firm, before becoming a principal for The Dagoba Group. He has held progressively responsible sales and marketing positions for over 15 years.
Mason holds a long list of sales achievement awards for direct sales and sales management. He has consulted with over half of Fortune 1000 companies and has a special interest in start-up sales strategy. Mason is the author of DRIVEN: A Manager's Field Guide to Sales Team Optimization and 101 Words and Phrases Everybody in Sales Should Know. He has been a speaker and panelist on a wide range of topics, and is often interviewed for sales team strategy.
Mason earned a Masters in International Business from Webster University in The Netherlands and a Bachelors in International Relations from University of Mary Washington in Virginia. In his free time, Mason can be seen working with local farmers to conserve farmland through his initiative www.TheYardProject.com.
Mark Kaplan
Mark Kaplan is the Chief Diversity and Inclusion Consulting Officer of The Dagoba Group. Mark was the CEO of MGK Consulting before becoming a principal for The Dagoba Group. He has been consulting since 1986 and has advised organizations in the areas of management development, executive coaching, team building and group dynamics, organizational assessment, and diversity management, assessment and strategy development.
Mark has worked with global Fortune 1000 corporations, non-profits and small business organizations. He has worked on five continents, in many environments, and with all levels of management. Mark has been published in leading Diversity publications, a guest speaker at globally focused conferences and often quoted in international business and industry trade publications.
Mark earned his Masters in HR Development from Villanova and a Bachelors in Psychology from the University of Florida. He holds many certifications including Organization and Systems Development from the Gestalt Institute. In between trips, Mark likes to spend time on his passion for cooking and gardening.
Back to all webinars