Awaken Potential, Focus Leadership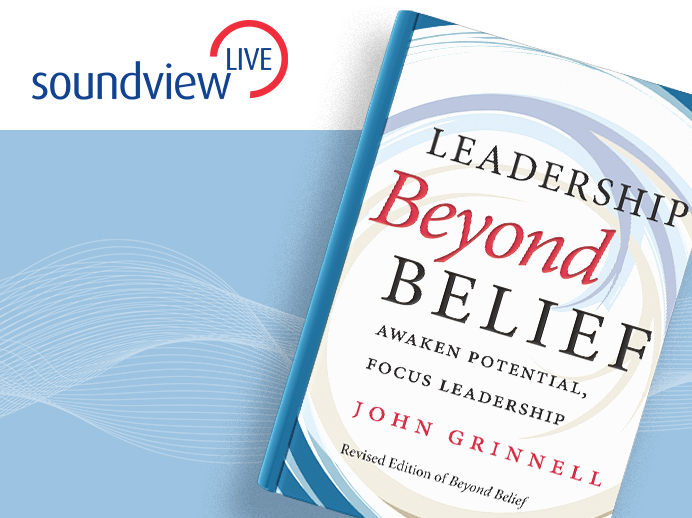 In this Soundview Live webinar, Awaken Potential, Focus Leadership, John Grinnell uses seven powerful models, case studies and research from his more than 25 years of experience to clarify the intangible psychosocial basis of organizational life so outcomes of leadership are more predictable. A lucid explanation of the way a leader's self-awareness of personal beliefs influences outcomes lays a solid foundation for pointing out how to more rapidly cause followers to gain perspective, act accountably, and rapidly align to adapt faster in the marketplace.
About the Speaker
John Grinnell
John Grinnell is principal of Grinnell Leadership & Organizational Development in Chapel Hill, NC. With more than twenty-five years of practical experience in the business world, he is an expert in developing leadership potential through personal awareness with the most experienced C-suite decision makers to rising junior executives.
John's consulting and training services have been applied in virtually every business category. A small sample of his extensive client list includes AstraZeneca, Balfour Beatty Construction, DuPont, Deloitte, Duke Realty, Duke University Medical Center, Federal Reserve Bank, First Citizens Bank, Glaxo Smith Kline, Turner Broadcasting, U.S. Army Corps of Engineers and Volvo. No matter the size of the organization, John develops real leaders–capable of transforming their organizations and their communities.
Back to all webinars
More Webinars

Release the Power of Your Organization's Values

Speakers: Alan Williams, Alison Whybrow

Watch

The Three Disciplines of Advanced Strategic Thinking

Speaker: Rich Horwath

Watch

Redesign Work, Cultivate Human Potential, Achieve Extraordinary Outcomes

Speaker: Carol Sanford

Watch