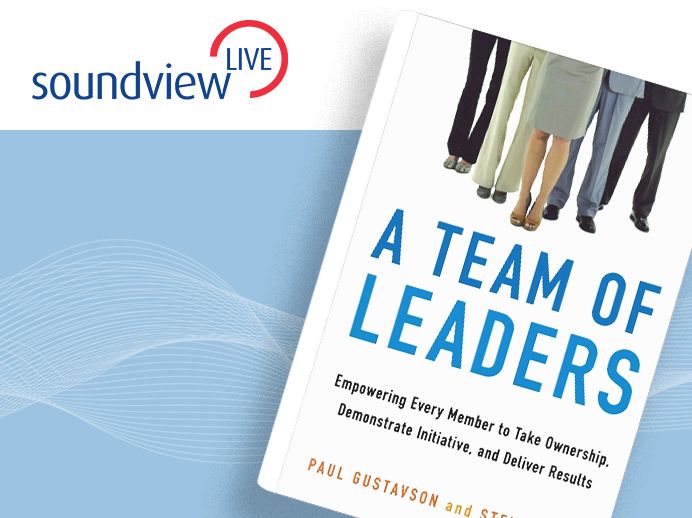 Imagine having a team where everyone steps up and performs all of the leadership tasks. Imagine a team that is constantly sharing knowledge and pushing the envelope – one that does long term planning and produces outstanding performance.
In this Soundview Live webinar, A Team of Leaders, Paul Gustavson and Stewart Liff show attendees how to design systems that nurture the leadership potential of every employee – the key to creating high-performance teams. Filled with real-world examples, this fresh approach transforms passive groups of disparate people into effective teams of leaders – workplace teams that work!
About the Speaker
Paul Gustavson
Paul W. Gustavson is a leading management consultant specializing in strategy and organization design, business process improvement, leadership development, the design of high performance teams and work systems, change management and knowledge management. In the early 70's, he began an in-depth study of high performance teams and the systemic design of high commitment work systems.
Paul received his Master's in Organizational Behavior in 1975 from Brigham Young University. He has served for over19 years as a member of the Marriott School of Management's OB/HR Advisory Board and as a past chair for 8 years.   In April 1999, he received the Marriott School of Management's William G. Dyer Distinguished Alumni Award for his contribution in the field of strategy and organization design, leadership development, knowledge management and change management.  In 1999 he was selected as a member of Work in America's National Advisory Council focusing on identifying best practices in creating and sustaining high performance teams.  In 2004 he received the Herrmann International Big Thinker Award for his contribution to the field of whole brain thinking. He served on President Kim Clark's BYU Idaho President's Advancement Council from 2007-2010.
Paul specializes in helping organizations develop a clear and compelling differentiating strategy.  Then helps them identify and prioritize those processes necessary to deliver their strategy. Finally he helps them align their organization's structures and various systems to the organization's processes and strategy. 
Stewart Liff
Stewart Liff is an award-winning human resource executive, author, advisor, teacher, and artist. Stew is one of the world's foremost proponents of using visual displays to connect employees to the mission and for sharing performance information with the workforce. He and Pamela A. Posey, D.B.A., co-authored a book on the concept entitled Seeing is Believing: How the New Art of Visual Management will Boost Performance throughout your Organization.
He started Stewart Liff & Associates, Inc. to pursue his passion to: 1) Share his unique approach to performance management, which combines the visual arts with performance management called Visual Performance Management; 2) Help organizations design and implement extraordinary Human Resource Management (HRM) programs; 3) Develop high-performing self-managed teams.
A recognized expert in the field of HRM, Stew has successfully represented the government in approximately 30 hearings before third parties. He has taught many classes on HRM, and his expertise includes performance management, employee relations, labor relations, EEO, staffing, training, rewards and recognition, metrics, systems design, strategic planning and succession planning.
Past clients are amazed at how Stew can quickly access what needs to change, how to do it, and how to resolve personnel problems, such as holding employees accountable or dealing with difficult people. Departments of Defense, Veterans Affairs (VA), Justice, Agriculture, Labor and Treasury, as well such diverse organizations as the World Bank, OPM, the State Government of Georgia, the Ohio Department of Alcohol, Drugs and Mental Health and the Brigham Young University Football Team have all benefited from Stew's expertise.
Back to all webinars