A Manager's Guide to Crisis Leadership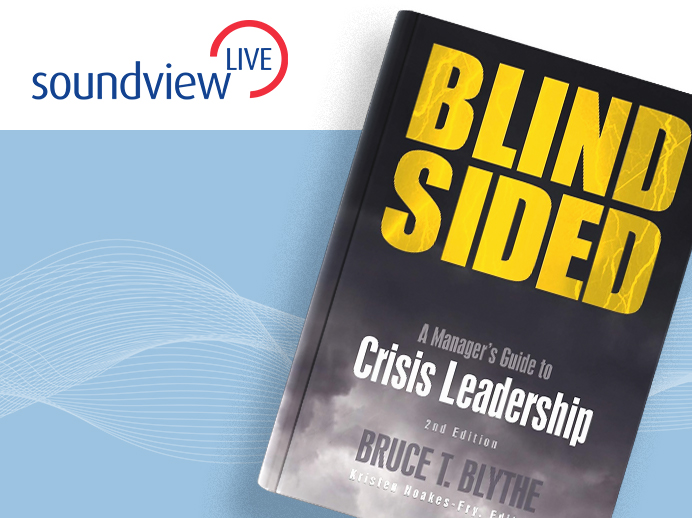 Don't be blindsided! You can lead through the unexpected —  no matter what the crisis. This is Bruce Blythe's promise in our Soundview Live webinar A Manager's Guide to Crisis Leadership. Blythe uses real-world examples to help you absorb the specific leadership skills, split-second decision-making, and essential character required to manage all aspects of any crisis humanely and well. Once he's grounded you in the gritty realism of response in the moment, Blythe walks you through creating a crisis preparedness program.
About the Speaker
Bruce Blythe
Bruce Blythe is owner/chairman of three companies that provide employers with a continuum of crisis preparedness, crisis response, and employee return-to-work services, including Crisis Care Network, Behavoral Medical Interventions, and Crisis Management International, Inc., a worldwide organization of crisis management specialists, business continuity planners, and former FBI and Secret Service agents. As a global crisis consultant, certified clinical psychologist, and executive coach, Blythe has worked with hundreds of companies in crisis prevention, preparedness and response. He has served as a consultant to the FBI on terrorism and workplace violence.
Blythe and CMI offered onsite crisis consultations to more than 200 companies in the aftermath of the September 11 terrorist attacks, as well as for the 1993 World Trade Center bombing, the 1995 Oklahoma City bombing, Hurricanes Andrew and Katrina in 1992 and 2005, corporate and commercial air crashes, an Ecuadorian jungle rescue of kidnap and ransom hostages 2001,a Coca Cola truck/bus crash in Texas that killed 23 school children in 1989, earthquakes in Los Angeles and San Francisco, and multiple workplace shootings.
Back to all webinars