A Cure for the Common Company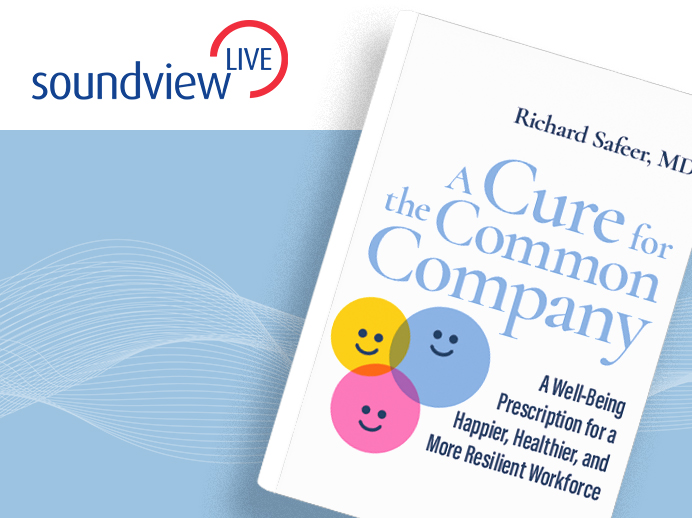 In this Soundview Live webinar, Dr. Richard Safeer, health and well-being expert and author of A Cure for the Common Company, offers tools and methods to create a culture of health in your workforce that will keep your people happier, healthier, and more productive.
In This Webinar, You Will Learn:
Strategies to help leaders build a sound cultural foundation that supports their efforts at change
A path forward that allows organizational leaders to step up and help their employees be the best versions of themselves
Techniques to build a supportive culture that overcomes common obstacles to change, including positive social climates, norms, and peer supports
About the Speaker
Richard Safeer
For the past 20 years, workplace health pioneer and thought leader Richard Safeer, M.D. has assessed cultures, trained leaders, and conducted and explored research on the intersection of individual and organizational behavior.
Dr. Safeer currently serves as the Chief Medical Director of Employee Health and Well-Being for Johns Hopkins Medicine where he leads the Healthy at Hopkins employee health and well-being strategy. He is a regular conference speaker on the topic of building a culture of health and well-being and has published numerous journal articles on the topic. He taught the inaugural graduate course, 'Organizational Health,' at American University. In addition, he teaches in the Department of Health, Behavior and Society at the Johns Hopkins Bloomberg School of Public Health. Dr Safeer is the first author to provide a step-by-step roadmap for creating a well-being culture that integrates science with practical solutions as demonstrated by the numerous real stories from successful companies.
Back to all webinars