As our lives become ever more complex, with more responsibilities, conflicting priorities, and greater demands on our time and energy, it can be hard to keep up with the necessary tasks without feeling overwhelmed. With so much vying for our attention and so many competing priorities, it's easy to feel pulled in too many directions at once. It's also easy to become disorganized, distracted from important tasks, or even burnt out from all the hustle and bustle.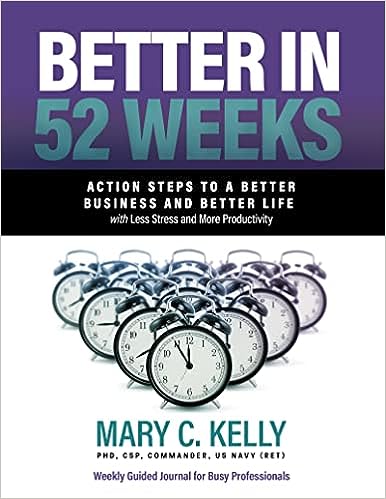 Fortunately, we have resources to guide us through this enormous challenge. One such resource is Mary C. Kelly's Better in 52 Weeks: Action Steps to a Better Business and Better Life with Less Stress and More Productivity.
The book provides a unique view into the world of productivity, breaking down complex concepts and providing tangible action steps to achieve greater results. It is packed with useful insights on how to become more productive in business and life, without sacrificing your sanity or wellbeing. Each chapter contains practical tips that can be implemented right away, making it easy for readers to track their progress in reaching their goals.
Dr. Kelly draws from her own experiences as well as those of top entrepreneurs and leaders who have achieved success by following proven methods. She also offers timely advice on utilizing technology to streamline processes and maximize efficiency.
Meet Dr. Kelly
Mary C. Kelly, PhD is an accomplished business strategist, author and speaker. She draws on her extensive experience as a leadership coach and corporate executive to provide valuable advice for entrepreneurs and individuals striving for greater success.
Dr. Kelly has taught leadership skills at the Naval Academy (where she was one of the first female graduates), the Air Force Academy, Hawaii Pacific University, and others. Her professional experience spans various roles within the public sector, including as an intelligence officer, chief of police, and chief of staff, as well as trainer for over 40,000 military personnel.
In addition to her career in service, Dr. Kelly is a prolific writer and public speaker on subjects related to personal development and productivity. She's written 13 business books in total, including the bestseller Master Your World, named a must-read book by no less than MENSA.
The Bottom Line
Overall, Dr. Kelly's book is an extremely inspirational read for anyone looking to find balance between work and life while having fun along the way. It is an empowering book that will help readers take control of their time, build confidence and make measurable progress. Highly recommended!
This book is a must-read for entrepreneurs, business leaders and anyone who wants to learn how to become more productive without sacrificing their mental health or happiness. With its helpful action steps, it is sure to help you live your life better in just 52 weeks. If you are looking for real strategies to achieve success with less stress and more productivity, this book is essential reading.
---
If you liked Better in 52 Weeks, you'll also like:
1) The 5 Choices: The Path to Extraordinary Productivity
2) Time Management Ninja: 21 Tips for More Time and Less Stress in Your Life
3) The 12 Week Year: Get More Done in 12 Weeks Than Others Do in 12 Months