A Memoir by the Creator of Nike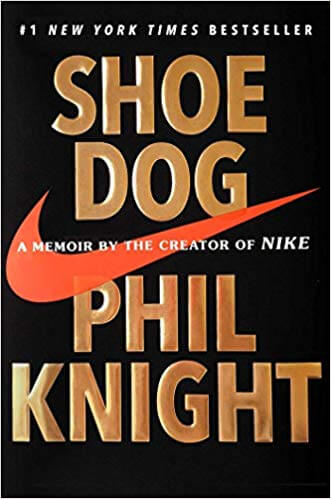 Nike is one of the world's most famous brands. Its swoosh, famously created by an art student for just a few dollars, is ubiquitous. Its outsourcing business model is considered genius by some, controversial by others. Everyone knows Nike — or at least we think we do.
Shoe Dog, the story of Nike written by its founder, Phil Knight, offers a new perspective on the brand.
Knight tells a surprisingly riveting tale. The book's chapters are organized by year, and much of the book is spent on the first 10 years of the company (launched in 1962). As with a detective series in which we know the detective will emerge unscathed, the fact that we know the ultimate outcome of this story does not deter from the white-knuckle ride on which Knight expertly takes his readers.
Knight is able to convey the fear and frustration of living on the edge that continues year after year, even as his company continues to grow. For example, Knight describes receiving the "pair count" (how many pairs of shoes shipped) from the warehouses every day. Because he depended on daily sales to generate the cash he needed to keep the business, then called Blue Ribbon Sports, alive, "the daily pair count determined my mood, my digestion, my blood pressure, because it largely determined the fate of Blue Ribbon," he writes. "If we didn't "sell through," sell all the shoes in our most recent order, and quickly convert that product into cash, we'd be in big trouble."
Blue Ribbon Sports
Blue Ribbon Sports may not be familiar to many, but it was the original name of the company that Knight founded in 1962 (the word "Nike" does not appear until nearly 200 pages into the book). Although known today as the king of outsourced manufacturing, Knight's "Crazy Idea" — the business model he developed as a Stanford MBA student — was to introduce quality Japanese shoes to America, and specifically the Tiger, manufactured by Onitsuka Company (now Asics) in Kobe, Japan. For a number of years, Blue Ribbon Sports, a company that only existed in Knight's mind when he traveled to Japan and told Onitsuka executives that he was its representative, was happy to be an importer of Japanese shoes — until, as Knight eloquently describes, Onitsuka decided to break its contract and surreptitiously replace BRS as distributor.
The cold war battle between Knight and the man who would become his nemesis, an Onitsuka executive named Kitami, is almost worthy of the tense dance between John Le Carre's George Smiley and the elusive Karla — which explains, to some extent, why Shoe Dog is a compelling read. Business is first and foremost about people, and while many company histories and business biographies offer a litany of deals and sales figures, Knight tells his story through the people of his company — especially the motley crew of the first Nike employees who fought to keep BRS afloat year after year. Legendary track coach Bill Bowerman, Knight's mentor (he ran for Bowerman at the University of Oregon) and for many years the co-owner of the company, is also a major presence.
Shoe Dog (a term that refers to people "who devoted themselves wholly to the making, selling, buying or designing of shoes," Knight writes) is a textbook on the immense challenges and potential rewards of entrepreneurship. This is one textbook, however, that will have readers turning its pages.
______________________________________________________________________________
Soundview subscribers get in-depth summaries of the key concepts in best-selling business books delivered to them every month! Take your career to new heights by staying up-to-date with the trends and ideas affecting business leaders around the globe.