Kara Goldin turned her unsweetened flavored water into one of the most successful beverage businesses of our time and has been named one of InStyle's Badass 50, Fast Company's Most Creative People in Business, Fortune's Most Powerful Women Entrepreneurs, and EY Entrepreneur of the Year for Northern California.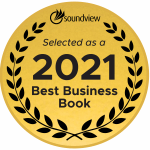 Her secret? Be undaunted. Deal with your fears. Move forward despite uncertainty. Turn criticism into motivation. In Undaunted she shares stories about her own fears and doubts, the challenges she encountered, and what she did to overcome them to eventually build a great business and a life she loves.
Setbacks will come, but Goldin shows you can learn from failures and frustrations and keep advancing toward your true purpose. What if we didn't let our fear of failure stop us? Part autobiography, part business memoir, and lots of insights on self-development, Undaunted offers inspiring stories that impart lessons that any reader can apply to their own path.
In the Soundview Summary of Undaunted, you will learn:
How to initiate great ideas even when you don't have all the answers.
The importance of the right partners and perseverance.
The value of knowing your customers.
How to find inspiration that will allow you to take risks and make mistakes in order to find your mission.
______________________________________________________________________________
Soundview subscribers get quick-read/quick-listen summaries of the key concepts in best-selling business books (like Undaunted) delivered to them every week! Take your career to new heights by staying up-to-date with the trends and ideas affecting business leaders around the globe.