Transform Decisions with the Power of Visuals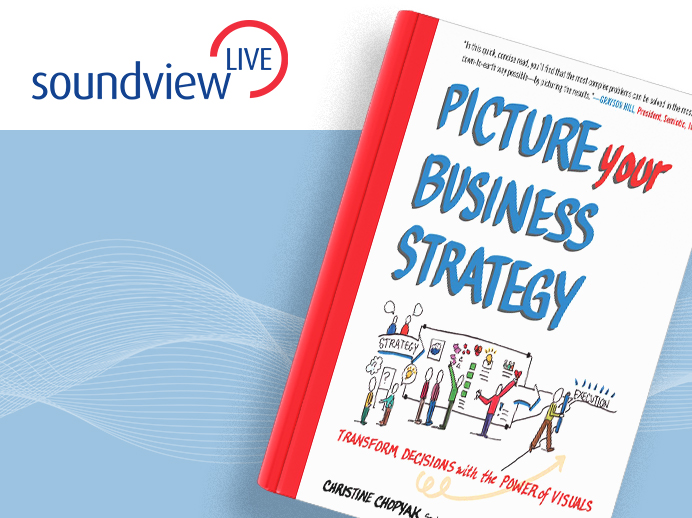 Scientific studies have shown that looking at pictures, drawings, and other graphics engage both sides of the brain — opening the "mind's eye" and business systems to new possibilities we might not otherwise see. Frustrated by lackluster approaches to strategy, companies are combining illustrations and color with business strategy and phenomenal success.
In this Soundview Live webinar, Transform Decisions with the Power of Visuals, Chris Chopyak will help you master the principles of "strategic illustration," a proven system for visualizing ideas. Chopyak provides a fresh new business model for developing specific "seeable" actions that can be measured, tracked, and cascaded into other priority areas.
About the Speaker
Christine Chopyak
Chris is a senior partner & co-owner of Alchemy. She is a skilled consultant and strategist who uses a variety of methodologies, best practice, graphics and deep listening to elicit ideas, solutions and innovation from people and their organizations.  Her approach and insights result in a dynamic environment where high energy, best-practice and system practicalities create opportunities that both clients and stakeholders are enthused to deploy.
With over 18 years of business planning, consulting, public participation and stakeholder engagement, and systems background, Chris' clients include multi-national Fortune 500 companies, government agencies, municipalities, county governments, trade associations and school systems.  She has designed processes for and with multiple industries including finance, technology, pharmaceutical, consumer products, large consulting businesses, petrochemicals, agriculture, publishing and education industry as well as oil and gas, aerospace and hotel industries.  With a specialty in large group facilitation (150+) and cultural integration Chris enjoys the challenge of large systems and small teams in diverse, multi-cultural and international settings.
Prior to her leadership role at Alchemy, Chris served as the Vice President for Development at Earth Force, and Executive Director of Keystone Science School, a division of The Keystone Center located in Keystone, Colorado.  She has served as a key note speaker and guest faculty at several business schools across the United States.  She serves as the Chairman of the Board for Earth Force, a national youth, environment and service learning organization, as well as Paragon Theatre, the World Café Community Foundation, and The Association of College Counselors in Independent Schools.  Chris has an M.B.A from the Executive and Professional Education program at the Daniels College of Business, University of Denver, and is a graduate of the 50 for Colorado executive education program at the LEEDS Business School at the University of Colorado at Boulder.
Back to all webinars