The Ten Truths About Leadership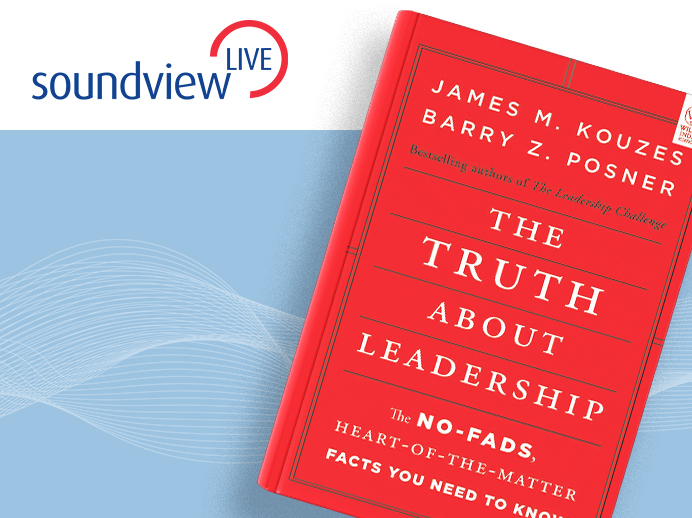 In these turbulent times, when the very foundations of organizations and societies are being shaken, leaders need to move beyond the pessimistic predictions, the trendy fads, and the simplistic solutions. They need to turn to what's real and what's proven, to understand what the evidence tells us about how exemplary leaders get extraordinary things done.
In this Soundview Live webinar The Ten Truths About Leadership, bestselling, award-winning authors James Kouzes and Barry Posner reveal what every leader must know, the questions they must be prepared to answer, and the real-world issues they will likely face.
Based on thirty years of research — and more than one million responses to Kouzes and Posner's leadership assessment — this all-new work explores the fundamental, enduring truths of leadership that hold constant regardless of context or circumstance. The authors will show emerging leaders the heart of leadership and what they need to know to be effective — a dynamic new look at the real challenges leaders face today — bringing about the essential changes that will renew organizations and communities.
The audio recording, video recording, slides, and book summary will be available to listen to or download from your Online Library immediately after check-out.
About the Speaker
James Kouzes
Jim Kouzes is the Dean's Executive Professor of Leadership, Leavey School of Business, at Santa Clara University. Not only is he a highly regarded leadership scholar and an experienced executive, the Wall Street Journal has cited him as one of the twelve best executive educators in the United States. In 2006 Jim was presented with the Golden Gavel, the highest honor awarded by Toastmasters International. Jim served as president, CEO, and chairman of the Tom Peters Company from 1988 through 1999, and prior to that led the Executive Development Center at Santa Clara University (1981–1987). Jim founded the Joint Center for Human Services Development at San Jose State University (1972–1980) and was on the staff of the School of Social Work, University of Texas. His career in training and development began in 1969 when he conducted seminars for Community Action Agency staff and volunteers in the war on poverty. effort. Following graduation from Michigan State University (B.A. degree with honors in political science), he served as a Peace Corps volunteer (1967–1969). Jim also received a certificate from Sann Jose State University's School of Business for completion of the internship in organization development. Jim can be reached at jim@kouzes.com.
Barry Z. Posner
Barry Posner is professor of leadership at Santa Clara University (Silicon Valley, California), where he has received numerous teaching and innovation awards and served as dean of the Leavey School of Business for 12 years (1996-2009). An internationally renowned scholar and educator, Barry is author or coauthor of more than a hundred research and practitioner-focused articles. He currently serves on the editorial review boards for Leadership and Organizational Development, Leadership Review, and The International Journal of Servant-Leadership. Barry is a warm and engaging conference speaker and dynamic workshop facilitator. Barry received his baccalaureate degree with honors from the University of California, Santa Barbara, in political science, his master's degree from The Ohio State University in public administration, and his doctoral degree from the University of Massachusetts, Amherst, in organizational behavior and administrative theory. Having consulted with a wide variety of public and private sector organizations around the globe, Barry currently sits on the board of director of EMQ Family First. He has served previously on the board of the American Institute of Architects (AIA), Junior Achievement of Silicon Valley and Monterey Bay, San Jose Repertory Theater, Public Allies, Big Brothers/Big Sisters of Santa Clara County, the Center for Excellence in Nonprofits, Sigma Phi Epsilon Fraternity, and several start-up companies. Barry can be reached at bposner@scu.edu.
Back to all webinars
More Webinars