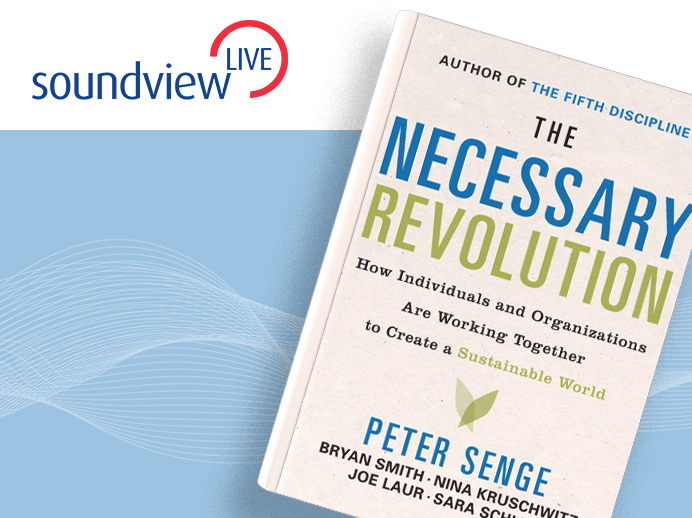 Peter Senge's work in The Necessary Revolution is being compared with the works of Malcolm Gladwell and Thomas Freidman as truly seminal thinking. In this Soundview audio conference Peter Senge demonstrates that it's true.
Senge doesn't just argue for businesses to "green up." He advocates for a complete rethinking of business from the ground up. He looks beyond competition to a kind of cooperation unheard of until recent years. In his own words: "Businesspeople with traditional competitive win-lose mind-sets are closing their eyes to the fact that there are really only two long-term options when it comes to dealing with sustainability issues: win-win or lose-lose."
The MP3 recording and slides from this event as well as a book summary for The Necessary Revolution will be available to listen to or download from your Online Library immediately after check-out.
About the Speaker
Peter Senge
The Journal of Business Strategy (September/October 1999) named Peter M. Senge one of the 24 people who has had the greatest influence on business strategy over the last 100 years. The Financial Times (2000) named him one of the world's "top management gurus." Business Week (October 2001) rated Senge one of the Top Ten Management Gurus.
Senge has lectured extensively throughout the world, translating the abstract ideas of systems theory into tools for better understanding of economic and organizational change. He studies decentralizing the role of leadership in organizations so as to enhance the ability of employees to work productively toward common goals, and the managerial and institutional changes needed to build more sustainable enterprises, which are businesses that foster social and natural as well as economic well being. Senge's work articulates a cornerstone position of human values in the workplace: namely, that vision, purpose, reflectiveness, and systems thinking are essential if organizations are to realize their potential. He has worked with leaders in business, education, civil society, health care, and government.
Senge is the founding chair of the Society for Organizational Learning (SoL), a global community of corporations, researchers, and consultants dedicated to the "interdependent development of people and their institutions."
He is the author of the widely acclaimed book, The Fifth Discipline: The Art and Practice of The Learning Organization (1990) and, with colleagues Charlotte Roberts, Rick Ross, Bryan Smith and Art Kleiner, co-author of The Fifth Discipline Fieldbook: Strategies and Tools for Building a Learning Organization (1994).
The Fifth Discipline hit a nerve within the business and education community by introducing the theory of learning organizations. Since its publication, more than a million copies have been sold worldwide. In 1997, Harvard Business Review identified it as one of the seminal management books of the past 75 years.
Back to all webinars
More Webinars