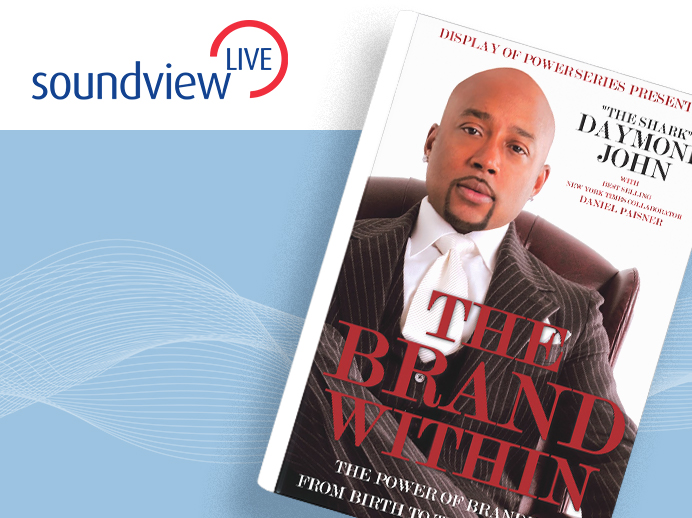 In this Soundview Live webinar, The Power of Branding, Daymond John tells how four ordinary guys from Queens, New York, rose from street corners to corner offices and became the greatest trendsetters of our generation. He lays it all out on the line- his secrets to success, his triumphs, and his utter failures- to show what it takes to harness and display the power that resides in us all.
Drawing on his own experiences on the cutting edge of the fashion business, as well as on his hard-won insights developed as a sought-after marketing consultant to global trendsetters and taste-makers, John maintains that branding relationships have now seeped into every aspect of our lives, and that in order to survive and thrive in the marketplace consumers and aspiring professionals need to understand and nurture those relationships.
About the Speaker
Daymond John
An entrepreneur in every sense of the word, Daymond John has come a long way from taking out a $100,000 mortgage on his mother's house and moving his operation into the basement. John is CEO and Founder of FUBU, a much-celebrated global lifestyle brand, and a pioneer in the fashion industry with over $6 billion in product sales. He is an award-winning entrepreneur, and he has received over 35 awards including the Brandweek Marketer of the Year, Advertising Age Marketing 1000 Award for Outstanding Ad Campaign, and Ernst & Young's New York Entrepreneur of the Year Award.
His marketing strategies and ability to build successful brands has made him a highly influential consultant and motivational speaker today. His marketing firm Shark Branding offers advice on how to effectively communicate to consumers through innovative means and connects brands with the world's top celebrities for everything from endorsements to product extensions. John is also an author of two best-selling books Display of Power and The Brand Within. In 2009, he joined the cast of ABC entrepreneurial business show the Shark Tank by acclaimed producer Mark Burnett. Millions of weekly viewers tune into the show as John demonstrates his marketing prowess and entrepreneurial insights.
Back to all webinars