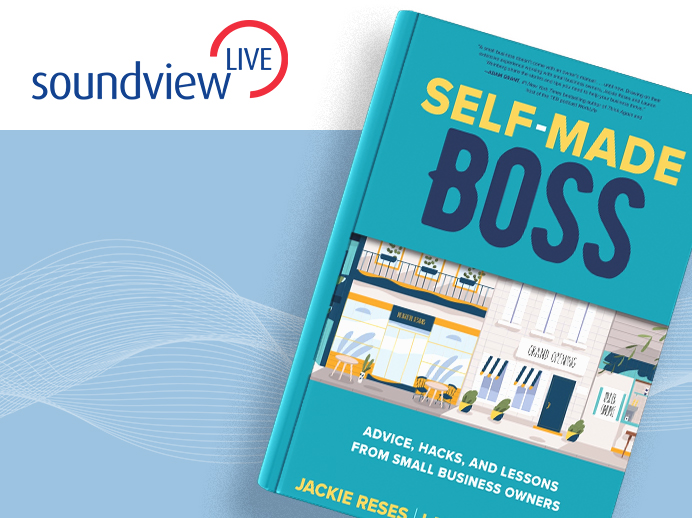 In this Soundview Live webinar, longtime Square executives, Jackie Reses and Lauren Weinberg share some of the insights from their book, Self Made Boss, offering tips, tricks, and practical advice for entrepreneurs looking to become their own bosses, as well as small business owners who want to improve their company's success.
In This Webinar, You Will Learn:
Invaluable advice taken from discussions with entrepreneurs of valuable businesses around the country.
How you can start your business and set a course for growth.
How to navigate through problems that arise with starting your own business.
What it means to be a Self-Made Boss.
About the Speaker
Jackie Reses
Jackie Reses is the Chief Executive Officer of Luna Financial Group, a fintech building banking-related financial infrastructure for tech and crypto companies and the Chair of the Economic Advisory Council of the Federal Reserve Bank of San Francisco. Previously, she was the Executive Chairman of Square Financial Services, Capital Lead and Head of the People Team at Square Inc. (Block Inc). She has been named one of Forbes "Self Made Women," Fast Company's "Most Creative People in Business," and American Banker's "Most Powerful Woman in Finance."  Prior, she had leadership positions at Yahoo! and was a Partner at Apax Partners Worldwide, one of the largest private equity firms in the world. Jackie is also on the board of directors of Endeavor, Affirm and Nubank.
Lauren Weinberg
Lauren Weinberg is the Chief Marketing Officer of Square, where she leads global Marketing and Communications for the $100B company that provides business solutions for millions of small business owners all over the world. She has been named on Forbes "CMO Next," Brand Innovators "Top Women in Marketing," and Fintech Hub's "30 Most Influential Fintech Marketers." Prior, she held leadership roles at Yahoo, MTV, and AOL. She is an AdWeek Executive Mentor and advises early stage startups.
Back to all webinars
More Webinars