How to Tap into the Power of Social Networks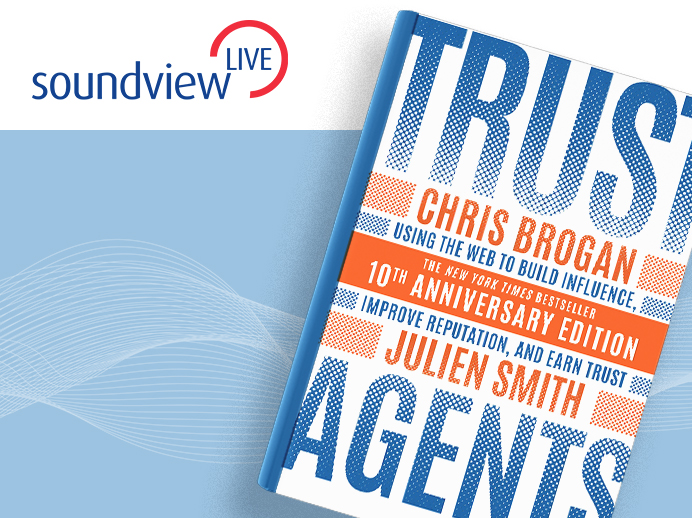 In this special edition of Soundview Live, Brogan and Smith, the co-authors of Trust Agents, show you how to tap into the power of social networks to build your brand's influence, reputation, and, of course, profits. Today's online influencers are web natives who trade in trust, reputation, and relationships, using social media to accrue the influence that builds up or brings down businesses online.
Trust agents aren't necessarily marketers or salespeople; they're the digitally savvy people who use the Web to humanize businesses using transparency, honesty, and genuine relationships. As a result, they wield enough online influence to build up or bring down a business's reputation. When you've learned a trust agent's secrets, your words can carry more power and more weight than any PR firm or big corporate marketing department.
The MP3 recording and slides from this event as well as the book summary Trust Agents will be available to download from your Online Library immediately after check-out.
About the Speaker
Chris Brogan
Chris Brogan is the world's leading authority on owning the game you most want to win. Combining a mix of professional leadership development and business strategy, Chris works with professionals like you to own your choices, own your life, and own your future. He is CEO of Owner Media Group, a highly sought after professional speaker and the New York Times bestselling author of eight books and counting, including The Freaks Shall Inherit the Earth, and Just Start Here.
Chris provides education and tools to help you make your life and your business thrive, by teaching you how to own the game you most want to win. Through events and courses and other tools, Chris is dedicated to helping you grow your capabilities and connections and to getting you to that next level of ownership, no matter where you are in the process right now.
Back to all webinars
More Webinars