How to Outsmart the Competition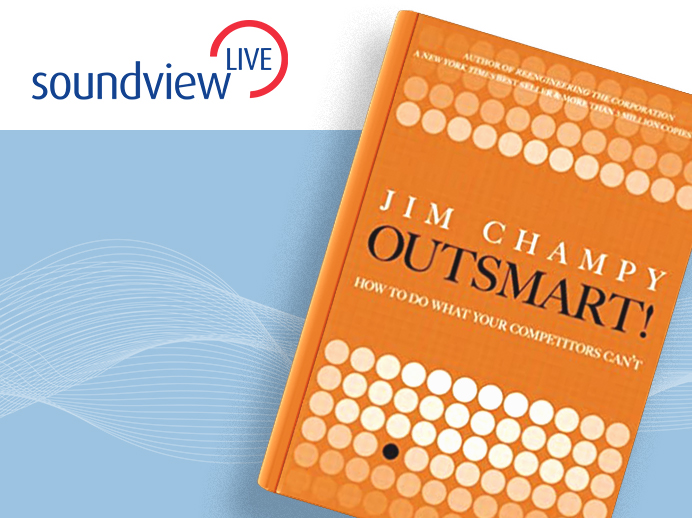 Jim Champy revolutionized business with Reengineering the Corporation. Now, in Outsmart! he's doing it again. In this Soundview audio conference Champy shows how you can achieve breakthrough growth by consistently outsmarting your competition. He reveals the surprising, counterintuitive lessons learned by companies that have achieved super-high growth for at least three straight years.
Drawing on the strategies of some of today's best "high velocity" companies, he identifies eight powerful ways to compete in even the roughest marketplace. You'll discover how to find distinctive market positions and sustainable advantages in products, services, delivery methods, and unexpected customers with unexpected needs.
The MP3 recording and slides from this event as well as a book summary for Outsmart! will be available to listen to or download from your Online Library immediately after check-out.
About the Speaker
Jim Champy
Champy earned his BS in 1963 and his MS in Civil Engineering in 1965 from MIT. Anxious to broaden his education, he attended Boston College Law School, where he became deeply involved in the intellectual life of the school and served on The Law Review as a writer and as an editor of The Annual Review of Massachusetts Law. He received his JD in 1968 and immediately passed the bar exam.
In 1969, Tom Gerrity, Champy's roommate from MIT who recently retired as dean of the University of Pennsylvania's Wharton School of Business, had an opportunity to start a company based on the work he was doing toward his PhD. His first project was to build an automated investment portfolio management system, and he asked Champy and two other MIT classmates—Fred Luconi and Richard Carpenter—to join him as partners. They started with an initial investment of $370 each and named the company Index Systems.
By 1988, Index saw the need to become part of a large company and was acquired by CSC. After CSC acquired Index, Gerrity left to become dean of Wharton and Champy became chairman, leading the firm to international prominence and its growth to $200 million. "At Index, I learned how to grow a business," he says. As chairman of consulting for Perot Systems, Champy continued to consult with clients, while providing strategic  guidance to Perot Systems' own growth.
Champy is in demand as a speaker around the world. He is often asked by major media to comment on the news of the day and is a frequent guest on television and radio programs. Champy is a member of the MIT Corporation, Massachusetts Institute of Technology's Board of Trustees, and serves on the Board of Overseers of the Boston College Law School. He is also a member of the Board of Directors of Analog Devices, Inc.
Back to all webinars