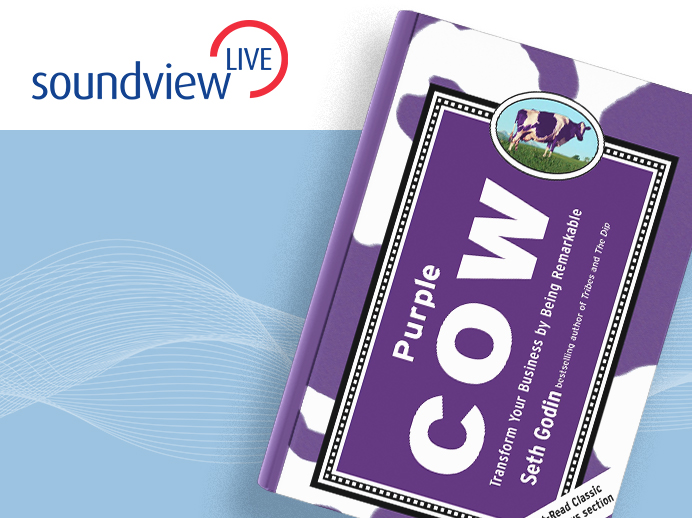 "The old rule was: Create safe, ordinary products and combine them with great marketing. The new rule is: Create remarkable products that the right people seek out." Left and right, brands are competing for consumer attention. And most are failing because they simply blend in. Geared for mass appeal, most brands are so inoffensive, they are bland, boring and mundane.
So how do you get your brand, your product, your service front and center in your customer's mind? You make it so remarkable it is like a purple cow in a herd of Holsteins.
Seth Godin, author of the bestseller, Purple Cow, shares his insights on how to create a truly remarkable product or service. He focuses on the necessity of putting marketing dollars into product design as opposed to media and how to spread "ideaviruses," that infecting word-of-mouth buzz that has the power to sky-rocket product sales. Godin's examples of purple cow products and services, along with his sense of humor, and story-telling ability make this audio conference as entertaining as it is informative.
The MP3 recording from this event as well as a book summary for Purple Cow will be available to listen to or download from your Online Library immediately after check-out.
About the Speaker
Seth Godin
Seth Godin writes the most popular marketing blog in the world; is the author of the best-selling marketing books of the last decade; speaks to large groups on marketing, new media and what's next; and is the founder of Squidoo.com, a fast-growing recommendation Web site.
Godin is author of nine books that have been best-sellers around the world and changed the way people think about marketing, change and work. His books have been translated into more than 20 languages, and his e-books are among the most popular ever published. He is responsible for many words in the marketer's vocabulary, including permission marketing, ideaviruses, purple cows, the dip and sneezers. His irrepressible speaking style and no-holds-barred blog have helped him create a large following around the world.
Godin is a renowned speaker as well. He was recently chosen as one of "21 Speakers for the Next Century" by Successful Meetings and is consistently rated among the very best speakers by the audiences he addresses.
Godin was founder and CEO of Yoyodyne, the industry's leading interactive direct marketing company, which Yahoo! acquired in late 1998. Godin worked as vice president of direct marketing at Yahoo! before leaving to become a full-time speaker, writer and blogger.
He holds an MBA from Stanford, and was called "the Ultimate Entrepreneur for the Information Age" by BusinessWeek.
Back to all webinars
More Webinars