Destroying the Barriers that Turn Colleagues into Competitors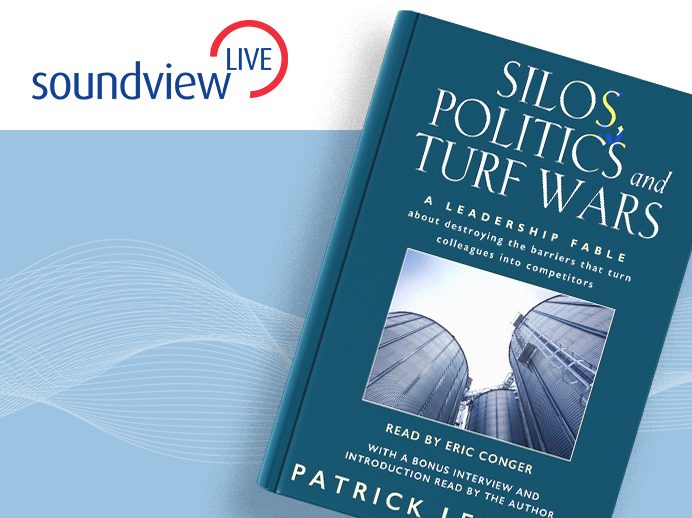 As with his other books, Lencioni wrote Silos, Politics, and Turf Wars as a fictional — but eerily realistic — story. The story is about Jude Cousins, an eager young management consultant struggling to launch his practice by solving one of the more universal and frustrating problems faced by his clients. Through trial and error, he develops a simple yet ground-breaking approach for helping them transform confusion and infighting into clarity and alignment.
In this Soundview audio conference, Patrick Lencioni will address the costly and maddening issue of silos, the barriers that create organizational politics. Silos devastate organizations, kill productivity, push good people out the door, and jeopardize the achievement of corporate goals.
The MP3 recording and slides from this event as well as a book summary for Silos, Politics and Turf Wars will be available to listen to or download from your Online Library immediately after check-out.
About the Speaker
Patrick Lencioni
Patrick Lencioni is a bestselling author, speaker and consultant with over two decades of experience working with CEOs and their executive teams. He is founder and president of The Table Group, a consulting firm dedicated to building healthy organizations. He is the author of many bestselling books including The Five Dysfunctions of a Team, which continues to be a weekly fixture on national bestseller lists; his books have sold over three million copies.
Pat's work has been featured in numerous publications such as Bloomberg BusinessWeek, Fast Company, INC Magazine, USA Today, Fortune, Drucker Foundation' Leader to Leader, and Harvard Business Review.
The Wall Street Journal has named Lencioni one of the most in-demand business speakers. And he has been a keynote speaker on the same ticket with George Bush Sr., Jack Welch, Rudy Guiliani, Bill Clinton, and General Colin Powell.
As a consultant and speaker, he has worked with thousands of senior executives in organizations ranging from Fortune 500 corporations and professional sports teams to universities and nonprofits, including Southwest Airlines, Chick-fil-A, Nestle, AT&T, Northwestern Mutual, General Mills, SAP, Willow Creek, and the US Military Academy at West Point.
Prior to founding The Table Group, Pat worked at Bain & Company, Oracle Corporation, and Sybase, where he was vice president of organizational development.
Lencioni lives in the San Francisco Bay Area with his wife and their four sons.
Back to all webinars