Creating Presentations that Persuade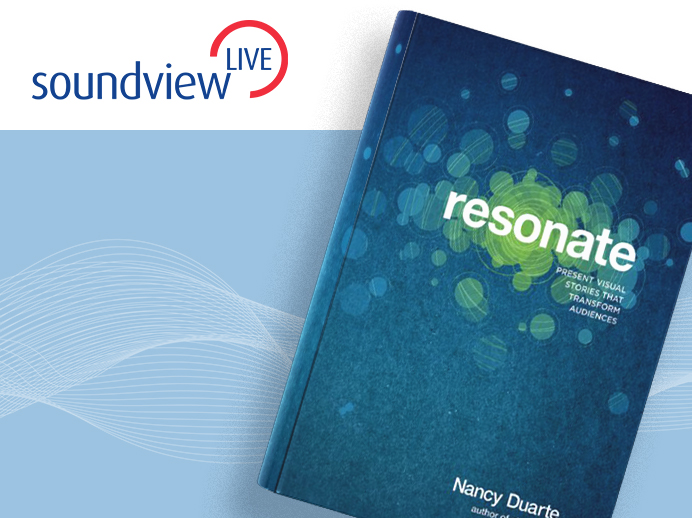 Presentations are the lingua franca of business and those who master communicating with them rise faster than their peers, reach more customers than their competitors, and turn causes into a groundswell.
In this Soundview Live webinar, pioneering presentation innovator Nancy Duarte, CEO of Duarte Design, demonstrates how to apply the methods in her book Resonate: Presenting Visual Stories That Transform Audiences, to build meaningful connections with audiences that compel them to action. Her groundbreaking work details a new way of structuring a presentation and connecting with an audience, helping the presenter create a human connection.
Changing the world starts with transforming an audience, and an audience will only change if you resonate with them.
Available Formats: audio recording, video recording, and 8-page book summary of Resonate
About the Speaker
Nancy Duarte
Nancy Duarte has driven the vision and growth of Duarte Design for 20 years, building an internationally respected design firm, which has created over a quarter of a million presentations. She has helped shape the perceptions of many of the world's leading brands and thought leaders.
Nancyis the author of the best-selling and award winning book Slide:ology The Art and Science of Creating Great Presentations, where her experience was distilled into best practices for business communicators. She continues to advance new forms of presentation through partnerships with innovative forums like TED and PopTech. Nancy serves as a TED Fellows committee member, is a 2009 Woman of Influence and 2008 Communicator of the Year.
Back to all webinars
More Webinars