Building Bridges for Better Mentoring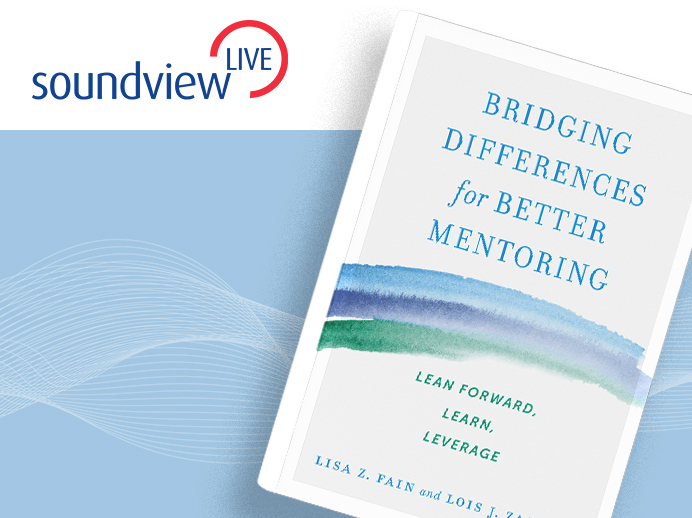 CEO of the Center for Mentoring Excellence, Lisa Fain teams up with founder, Lois Zachary to present this Soundview Live webinar, based on their new book Bridging Differences for Better Mentoring.
As the workplace has become more diverse, mentoring has become more challenging. Mentors and mentees may come from very different backgrounds and have limited understanding of each other's cultures and outlooks, but mentoring remains the most powerful tool for creating meaningful relationships, furthering professional development, and increasing engagement and retention. In this Soundview Live webinar, Lisa Fain and Lois Zachary illustrate how key mentoring concepts can play out in real life.
About the Speaker
Lois Zachary
Lois J. Zachary is president of Leadership Development Services, LLC, a Phoenix-based consulting firm that specializes in leadership and mentoring, and director of its Center for Mentoring Excellence. Her innovative mentoring approaches and expertise in coaching leaders and their organizations in designing, implementing, and evaluating learner-centered mentoring programs have been used globally by a wide array of clients, including Fortune 500 companies, government organizations, educational, and other institutions – profit and nonprofit.
Back to all webinars
More Webinars

The First 90 Days of a Mentoring Relationship

Speakers: Lory Fischler, Lois Zachary

Watch

The Key to Driving a High-Performance Culture

Speaker: Greg Bustin

Watch

How to Lead Yourself, Your People, and Your Organization for Extraordinary Results

Speaker: Jacqueline Carter

Watch