Becoming a Benevolent Dictator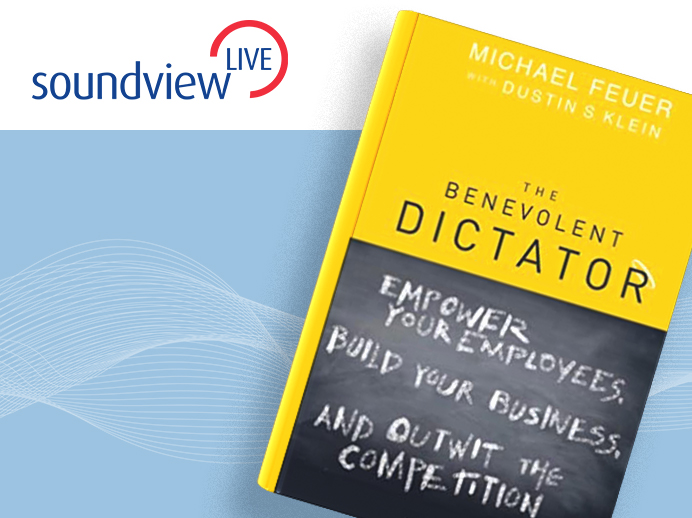 Beating the competition is never easy. Neither is running the gauntlet of a business start-up, which not only is a major challenge but can often prove fatal. Success for both depends on being a benevolent dictator.
In this Soundview Live webinar, Becoming a Benevolent Dictator, Michael Feuer and Dustin Klein lay out the philosophy that every business or idea has a life cycle that encompasses four critical phases: Idea Development, Build Out, Continuous Improvement and Cash Out.
This methodology is spelled out through dozens of specific leadership lessons, which provide examples and practical applications designed to help everyone, from students of business and aspiring entrepreneurs to executives, take any concept effectively and rapidly from mind to market.
The audio recording, video recording, and slides will be available to listen to or download from your Online Library immediately after check-out.
About the Speaker
Dustin Klein
Dustin Scott Klein is an award-winning business journalist, best-selling author and the publisher of Smart Business magazine, a national chain of management journals for senior executives. Dustin is a former news reporter and business editor, as well as noted speaker on innovation, entrepreneurship and the art of storytelling.
Michael Feuer
Michael Feuer cofounded OfficeMax in 1988 starting with one store and $20,000 of his own money, a partner, and a small group of investors. As CEO, he grew it to more than 1,000 stores worldwide with annual sales topping $5 billion. He is also CEO of Max-Ventures, a venture capital and retail consulting firm, and cofounder and CEO of Max-Wellness, a comprehensive health and wellness retail chain that launched in 2010.
Back to all webinars
More Webinars