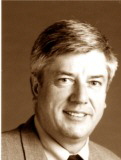 Michael J. Cunningham
Michael J. Cunningham is founder and CEO of the Massachusetts-based Harvard Computing Group,
an international business and technology consulting firm geared to create innovative strategies and to develop powerful web-enabled
solutions. Its clients include NYNEX, Hitachi, Vignette, The American Cancer Society, and AT&T. He is a sought-after speaker
internationally and regularly writes articles on Web business and e-commerce. He resides in Harvard, Massachusetts.
More From The Author