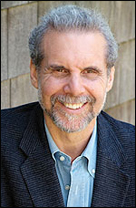 Daniel Goleman
Psychologist Daniel Goleman is the author of the groundbreaking and best-selling books Emotional Intelligence and Social Intelligence: The New Science of Human Relationships, among others. He is also co-director of the Consortium for Research on Emotional Intelligence in Organizations, based at Rutgers University.
For many years he reported on the brain and behavioral sciences for the New York Times and has also been a visiting faculty member at Harvard University.
Goleman has received many journalistic awards for his writing, including two nominations for the Pulitzer Prize for his articles in the Times, and a Career Achievement award from the American Psychological Association. In recognition of this efforts to communicate the behavioral sciences to the public, he was elected a Fellow of the American Association for the Advancement of Science.