Unlock the Power of Whole Brain Thinking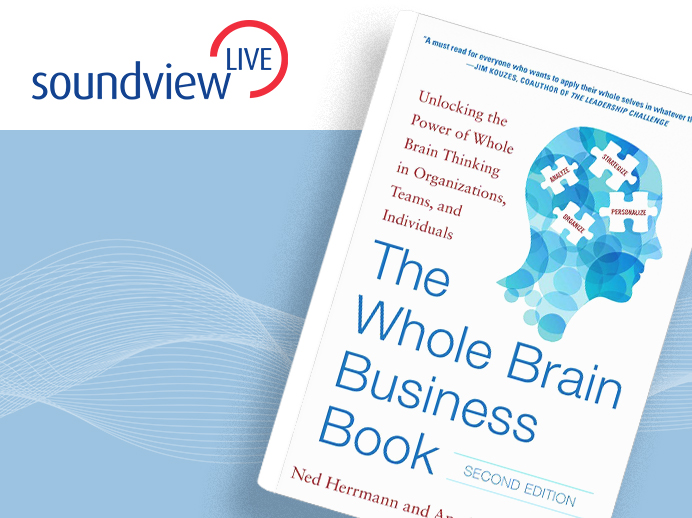 Thanks to the power of Whole Brain® Thinking, you can apply what we know about thinking, performance, and the brain to transform your organization at every level. Whether you're struggling to keep up with a changing market, are stuck with a tired business model, or are challenged by difficult colleagues, the proven methods in this updated guide will provide the solutions.
Filled with real-world examples and essential charts, exercises, action steps, and strategies, this Soundview Live webinar, Unlock the Power of Whole Brain Thinking, shows you how to rethink your business, prepare for the future, realign your goals, and reinvigorate your team — by putting your whole brain to work.
About the Speaker
Ann Herrmann-Nehdi
Ann Herrmann-Nehdi is the CEO of Herrmann International and has worked with many hundreds of organizations around the world, helping them leverage their cognitive diversity and increase their thinking agility to improve profitability, leadership, productivity, innovation and overall business results. She has been featured in Business News Daily, Chief Executive Magazine, Chief Learning Officer Magazine, HR Executive Magazine, Investor's Business Daily, Management Today, T+D Magazine, Training Journal, and O The Oprah Magazine, among others, and has contributed chapters to many books on the topic of Whole Brain® Thinking and Learning. A sought-after, powerful speaker, she has delivered hundreds of featured keynotes and programs for domestic and international groups.
Back to all webinars