Powering Up Innovation for a Resource-Deprived World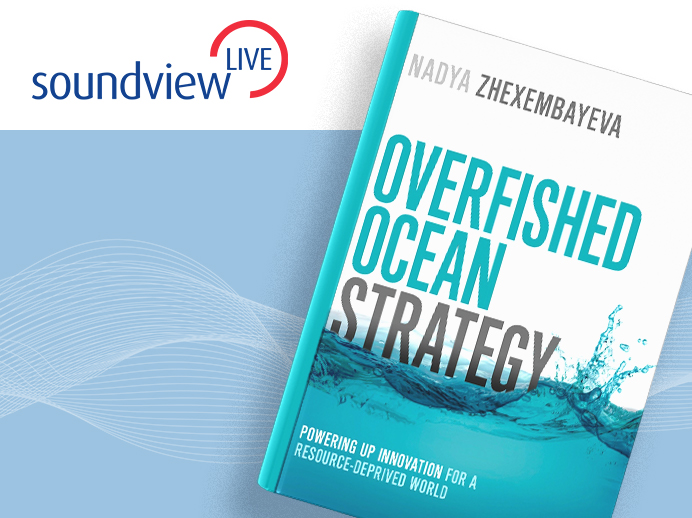 According to scholar and entrepreneur Nadya Zhexembayeva, businesses need to make resource scarcity – the overfished ocean – their primary strategic consideration, not just a concern for their "green" division.
This Soundview Live webinar, Powering Up Innovation for a Resource-Deprived World, is for everyone who wants to survive and thrive in this new economy – people who are looking for new solutions to their managerial challenges, entrepreneurs and business leaders eager to protect their companies and get ahead of the wave, journalists and academics searching for new level of discussion, educators interested in connecting the dots across disciplines and generations, non-profit leaders trying to understand and engage with the new business world, and, perhaps, most importantly, global youth who will grow into the generation responsible for making the new world work.
About the Speaker
Nadya Zhexembayeva
Dr. Nadya Zhexembayeva is a business owner, author, and educator working at the intersection of innovation, leadership, and sustainable growth. As a business owner, Nadya oversees a group of companies active in real estate, investment, and consulting industries.  Her recent client engagements include The Coca-Cola Company, ERG (formerly ENRC PLC), Erste Bank, Henkel, Knauf Insulation, and Vienna Insurance Group.
Until April 2014, Nadya also served as the Coca-Cola Chaired Professor of Sustainable Development at IEDC- Bled School of Management, an executive education center based in Slovene Alps, where she continues to teach courses in leadership, strategy, change management, design thinking, and sustainability. In addition to IEDC, Dr. Zhexembayeva has taught in a number of other business schools, including CEDEP (France) and IPADE Business School (Mexico).
Dr. Zhexembayeva chairs Resourcefulness Advisory Board at OMV, an oil and gas company, and sits on the Advisory Board of Fowler Center for Sustainable Value at Weatherhead School of Management, Case Western Reserve University. She also serves as Vice-President of Challenge:Future, a global student think-DO-tank and innovation competition.
Back to all webinars