How You and I Can See it My Way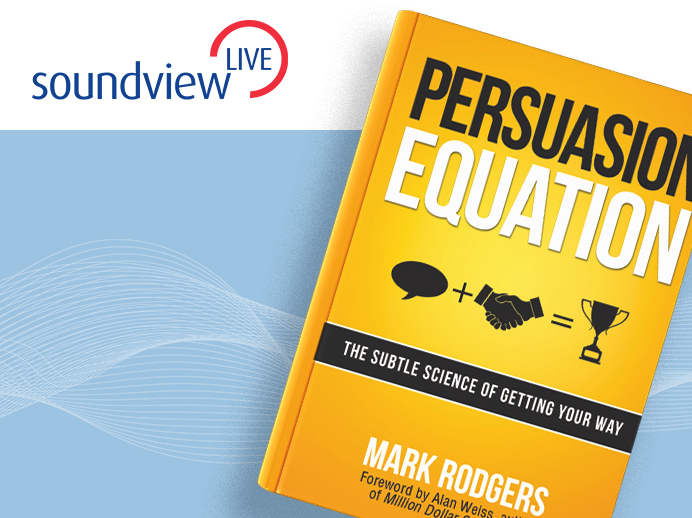 How do you get people to see things your way? Whether you're trying to secure a promotion, make a sale, or rally support for a new idea, the ability to persuade those around you is absolutely essential to success.
In this Soundview Live webinar, How to Get People to See Things Your Way, Mark Rodgers merges research and real-world application to reveal what really drives decisions and introduces readers to the persuasion equation – a powerful combination of factors proven to speed agreement. You will discover the surprising reasons people say "yes" and learn how to radiate an aura of expertise, win trust and leverage credibility and build a business case that appeals to both heart and mind.
About the Speaker
Mark Rodgers
Mark Rodgers is a principal partner of the Peak Performance Business Group, which helps clients dramatically improve their ability to persuade – often achieving astonishing results. An award-winning author, speaker and sought-after consultant, Mark's bestselling McGraw-Hill book: Accelerate the Sale helps clients significantly improve their sales and customer satisfaction faster than they ever thought possible.
Mark is one of only 500 people in the world to have earned the National Speakers Association Certified Speaking Professional designation. His schedule typically includes over 200 events per year and in the last 15 years has taken him to 8 countries and 40 states. Rodgers lives in Milwaukee, Wisconsin, with his wife and business partner, Amy (Whom Mark readily admits is the brains of the outfit!). Mark's work has attracted clients as diverse as the Harley-Davidson Motor Company to the Executive Education Program at the University of Wisconsin and dozens of other leading organizations.
Back to all webinars