12 Leadership Lessons from Pope Francis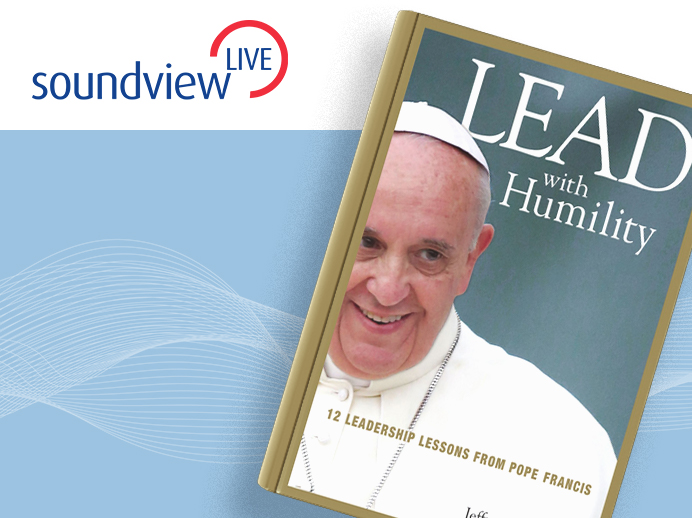 When Fortune announced its list of the World's Greatest Leaders, the top spot was awarded–not to a captain of industry – but to the new pontiff, Pope Francis. How did a man who spent his life laboring in slums far from the Vatican manage to achieve so much so quickly? The answer lies in his humility – and the simple principles that spring from it.
In this Soudview Live webinar, 12 Leadership Lessons from Pope Francis, Jeffrey Krames explores 12 of these principles and shows how leaders and managers can adapt them for the workplace with equally impressive results. Pope Francis's ability to inspire the world is unprecedented in modern times. Krames reveals the power of his methods, and helps anyone lead with grace and greater authenticity.
About the Speaker
Jeffrey Krames
As former Vice President and Publisher of McGraw-Hill's trade business books division, Jeffrey Krames has personally edited and published more than 300 business books, including many award-winning, best-selling titles on business luminaries that include Jack Welch, Michael Ovitz, Ross Perot, William Paley, Michael Dell, Bill Gates, Herb Kelleher and Lou Gerstner among others. Recently, Mr. Krames published seven of the top 35 best business books of the year as determined by Library Journal. In 2006, Mr. Krames become the Editorial Director of Portfolio/Penguin.
Jeffrey Krames is also a best-selling author and his last book was Jack Welch and the 4E's of Leadership which was published in December 2004. His other titles include What The Best CEO's Know, The Jack Welch Lexicon of Leadership and The Rumsfeld Way: The Leadership Wisdom of a Battle-Hardened Maverick. Inside Drucker's Brain will be Jeffrey's first book in four years.
Back to all webinars