Book Review by Taylor Berrett
If you want less frustrating emails at work, replies that actually answer your questions, and an overall shift to shorter, clearer messages, then we have the book for you.
Effective Emails: The Secret to Straightforward Communication at Work is as concise and straightforward as the emails it helps you write, and yet it's packed with powerful insights from the very first page.
Effective Emails presents a formula for a clear, concise business email, helping readers reach specific goals such as:
Improving the chances of someone reading your email.
Getting your point across quickly.
Getting faster, clearer, and more complete replies.
Avoiding the frustration of group and chain emails.
The book starts off with a discussion of the basics of email communication. Fenning explains why emails are important in the modern workplace and gives advice on how to craft effective messages. He also covers topics such as when to use emails, what information should be included in them, and how to create an effective subject line. With concrete examples, he shows readers how to make sure their emails stand out and get read by their intended recipients.
The King of Conciseness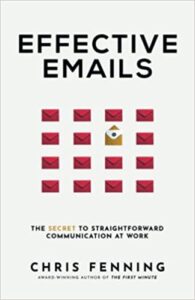 But who is Chris Fenning, this guru of subject lines and sign-offs? It turns out, he's a leading voice in the effort to communicate more clearly and concisely at work. His award-winning book The First Minute put him on the map, winning the Best Book Award at AmericanBookFest 2021 as well as the bronze medal at the 2021 Axiom Business Book awards for Business Communication. Since then, Fenning has made it his mission to improve alignment between businesses and their IT teams, as well as helping individuals and teams around the world communicate better— from Fortune 50 to FTSE 100 companies.
In Effective Emails, Fenning has created a no-bull guide to writing effectively, efficiently, and engagingly via email in a way that will improve the way you're perceived at work and help align teams more closely with a shared vision.
The Bottom Line
Effective Emails is an accessible and comprehensive guide to making sure that your messages get read and understood. Fenning's advice is easy to understand and backed up by practical examples. Readers will be well-equipped with the knowledge they need to write effective emails after reading this book. Highly recommended for anyone wanting to maximize their productivity using email communication.