Book Review by Taylor Berrett
Sales are often considered the engine that moves businesses forward. Without the ability to effectively sell a product to customers, even the most innovative companies and transformative inventions will drown in the cutthroat market of competition and public opinion. So much has been said about how to tap into the minds of your customers in order to sell to them— can there really be more knowledge to mine from the well?
Enter The Science of Selling by David Hoffeld, already named as one of the 20 Most Highly-Rated Sales Books of All Time by HubSpot. It promises to unlock the behavioral science and psychology behind what makes people decide to buy— or not buy. With so much hype surrounding it, it would be easy for The Science of Selling to be a disappointment. Fortunately, it lives up to its author's reputation and then some.
The author, David Hoffeld, is himself the CEO and chief sales trainer at Hoffeld Group, one of the top sales and consulting firms in the U.S., known for its research-based approach to sales. Hoffeld has become well-known for bringing the fields of neuroscience, social psychology, and behavioral economics into the world of sales to radically increase the effectiveness of the people he trains. As a result, he's a frequent speaker at Harvard Business School and has been featured in a range of publications including Fast Company, Harvard Business Review, and the Wall Street Journal.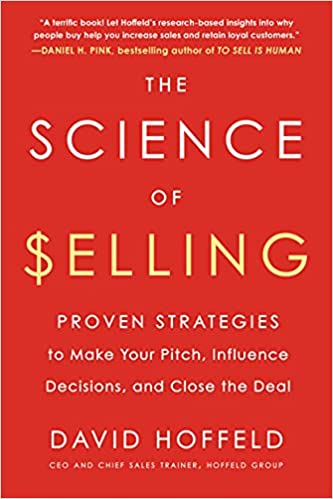 Research-Backed and On the Attack
When it comes to the scientific elements of selling, Hoffeld has truly done his research. While some of the studies and scientific findings featured in the book are widely known, there are also many that most readers– even die-hard behavioral psychology geeks— will be encountering for the very first time. Not only that, but these sometimes lesser-known studies genuinely enhance the overall message of the book and help to flesh out some of Hoffeld's anecdotal examples of the principles they illustrate.
It's in this regard that The Science of Selling truly shines as a diamond in the rough among a sea of sales books filled with cliches, platitudes, and vague advice that attempts to help everyone and winds up helping no one. 
One of the most effective aspects of The Science of Selling is the way it teaches readers how to tap into the emotions of buyers in order to increase their receptiveness to your ideas and to you as a person. Using various scientific studies as support, Hoffeld shows readers how to ask questions that align with how the brain operates, lock in the incremental commitments that ultimately lead to a sale, and create a positive influence and reduce the sway of competitors. In the end, the book will help nearly anyone involved in the world of sales as they seek to discover how to overcome objections and guide buyers from that initial first contact through to the final stage of making a purchasing decision.
The Bottom Line
When it comes to having a proven track record of sales success, David Hoffeld is the real deal. He's created a winning book that combines fascinating and enlightening tales from his career, knowledge shared from other impressive sources, and science-backed research into the way the brain works and processes information that all adds up to an essential resource for anyone involved in selling or managing salespeople. Even if all you're looking for is the opportunity to improve your ability to influence the people around you, The Science of Selling has plenty of value for you. This is one sales book you don't want to miss.
---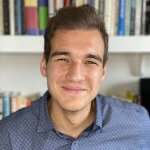 Taylor Berrett is a Contributing Writer at Soundview. He is also a freelance writer, editor, and was tge host of the podcast Alone in a Room.