Book Review by Taylor Berrett
As remote work grows at an accelerated rate, partly due to shifting cultural norms and more recently due to the effects of the COVID-19 pandemic, more and more companies are finding themselves battling ever more fiercely in the 'war for talent.' Sourcing and recruiting job candidates and leaders from around the globe, these companies are desperate for new ways to contact, attract, and retain great talent while creating organizational cultures that are empowering and effective. Meanwhile, an inspired new emphasis on inclusiveness in hiring has brought more opportunities for companies to leverage unique backgrounds and perspectives for greater growth and innovation.
That is, if we can figure out how to take advantage of all these opportunities. With Reset: A Leader's Guide in an Age of Upheaval, we may have just received our most powerful new tool in that struggle.
As president and CEO of the Society for Human Resource Management, Reset author Johnny C. Taylor knows a little something about the future of employment, culture, and leadership. It's no wonder he's been given a weekly column, Ask HR, in USA TODAY, and frequently is asked to testify before Congress on workforce issues and human resources-related matters. He was even appointed to the White House American Workforce Policy Advisory Board and as Chairman of the President's Advisory Board on Historically Black Colleges and Universities.
So when Taylor speaks on leadership in the new age of work, he speaks with some authority. But even putting his impressive credentials aside, Reset stands on its own on the strength of its ideas and the power they have to help each of us better deal with disruption and the 'upheaval' mentioned in the book's subtitle.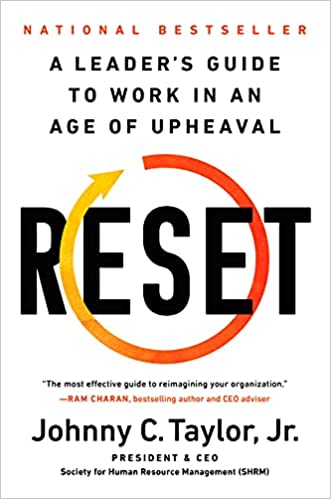 What We Think We Know is Hurting Us
Throughout Reset, Taylor challenges underlying assumptions about workers and the workplace, delivering strategies that will lead to better talent acquisition and retention in arguably the most disruptive period in the history of work.
There are plenty of specific, actionable tips spread across every chapter of Reset – too many to cover here. But the overarching power of Taylor's message is as simple as it is profound. In this dramatically transformed world of work in which we all find ourselves, we need to seriously rethink and reset our culture's and the way we treat our talent – and potential talent. From the Great Resignation to the increased discussion about fair wages and pay inequity between executives and employees, the old way of seeing employees as resources before seeing them as human beings will no longer fly. The companies and leaders that understand this most quickly will be the ones best equipped to adapt to a workforce and world that's only going to keep accelerating in its changes and upheavals.
The Bottom Line
Whether you're in need of an inspiring call-to-action or a detailed roadmap to the strategies that will protect you and your organization against disruptive forces affecting your workforce, Reset offers both – and a whole lot more. Consider it your handbook to the future of work.
---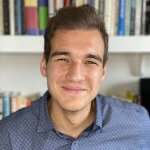 Taylor Berrett is a Contributing Writer at Soundview. He is also a freelance writer, editor, and was the host of the podcast Alone in a Room.