Book Review by Soundview
In 2012, Harvard Business School professor and social psychologist Amy Cuddy presented a TED talk on power poses and how the body impacts the mind. Viewed by tens of millions of people, Cuddy's TED talk is the second most-viewed talk in TED's history. Her book is Presence: Bringing Your Boldest Self to Your Biggest Challenges. That Cuddy's research resonates so broadly is not surprising, as it addresses head-on the anxiety and sense of powerlessness that most of us feel in the face of daunting challenges or high-pressure situations.
Staircase Wit
The desire for "do-overs," for example, is an experience that most people have shared. They wish they could go back into the job interview room and convey, through much better words, why they are the best candidate; they wish they could have a second chance to pitch their venture to a panel of potential investors; they wish they could erase the reaction they had to a senior leader's proposal and replace it with a reaction that would be impressive and memorable.
We've all been there. Even 18th-century French philosopher and writer Denis Diderot experienced that emotion, which is why he coined the phase "l'esprit d'escalier" — staircase wit or, in an updated version, elevator wit. It refers to those perfect words that come to us only after we've left the meeting and are on our way out of the building. What happens, explains Cuddy, is we recover the presence that we lost under the pressure of the situation.
Presence, writes Cuddy, "is the state of being attuned to and able to comfortably express our true thoughts, feelings, values and potential."
Cuddy is not asking us to embark on a journey of self-discovery to the Peruvian mountains; she is simply helping us to succeed in that meeting, so that the wit occurs in the conference room and not on the staircase.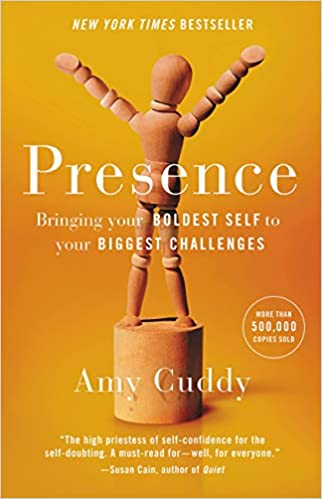 The key to presence, writes Cuddy, is to feel personally powerful. Even social power — being in a position to control situations — will not overcome personal powerlessness. Personal power requires knowing our values and being true to our values. It requires an alignment of the various parts of ourselves: our thoughts, our feelings, our behaviors. Cuddy calls this "synchrony."
Personal power requires defeating the thoughts and assumptions that make us feel powerless. The "spotlight effect," for example, is the feeling that everyone is watching and judging us — a feeling that in nearly every instance is unwarranted.
The good news is that scientific research shows that how we act can change how we feel inside. Cuddy describes her famous "power poses" — standing like Wonder Woman with your hands on your hips, your feet slightly apart, for example. These power poses, she explains, send messages to the brain that we are powerful. "Let your body tell you that you're powerful and deserving, and you become more present, enthusiastic and authentically yourself," she writes.
Built on solid science (both psychological and physiological), packed with insight and filled with examples and stories — including Cuddy's own compelling recovery from brain damage following an accident — Presence is a vital addition to every person's toolkit for success.