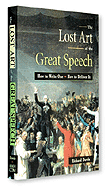 Richard Dowis
Richard Dowis, a former journalist and a retired
senior vice president of Manning, Selvage & Lee Public Relations, has won
numerous awards for editing, speech writing, and financial writing. His
books include How to Make Your Writing Reader-Friendly and, as coauthor,
The Write Way and Sleeping Dogs Don't Lay. Dowis lives in
Waleska, Georgia, where he writes, teaches writing, and consults on business
communications. He is president of the Society for the Preservation of English
Language and Literature, a 2,000-member organization of people who love
language.
More From The Author
The Lost Art of the Great Speech
Richard Dowis