Mike Freedman
Mike Freedman is president of the Worldwide Strategy Practice of Kepner-Tregoe, Inc., the global consulting and training company with corporate headquarters in Princeton, New Jersey. During 20 years with the firm, he has led many consulting assignments designed to facilitate clients in the formulation and implementation of their strategies. These assignments have led him all over the globe and into Fortune 500 and FTSE 100 companies, governments, public-sector industries, private firms and not-for-profit institutions. His clients have included the American Manufacturing Corporation, The Bankof Ireland, Bristol and West Bank, Corning, Courtaulds, Chase Manhattan Bank NV, Hallmark, the Industrial Development Agency of Ireland, ICI Paints, Kennametal Inc., Lagoven (the state oil company of Venezuela), Massey-Ferguson, Royal Mail, and the Savoy Group of Hotels.
Mr. Freedman has lived and worked in the United Kingdom, Canada, the United States, Iran, and Singapore. It is against this rich background and his more than 15 years as a senior executive in Xerox, Herts Rent A Car, and Phillips that this book has been written. He has also been active in political and community affairs. Mr. Freedman served as personal advisor to Tom (now Lord) Sawyer when the latter was general secretary of the Labour Party in the 3-year run up to Tony Blair's success in the 1997 general election. He also stood for Parliament in earlier general elections in the United Kingdom.

Mr. Freedman is a former president of the U.K. Management Consultancies Association, which is the professional and trade body of major consulting firms. He has published more than a dozen articles on strategy, and he is on the editorial board of the United Kingdom-based journal Strategic Direction. He studied as an undergraduate at University College, London, and as a postgraduate at the Universities of Oxford and Saskatchewan in Canada. He has been a non-executive director of a financial services firm and is currently on the boards of Revise.It, an Internet-based student portal, and SAS, a corporate design and communications agency.
Mike and his wife, Avril, a physician, have five grown children.
More From The Author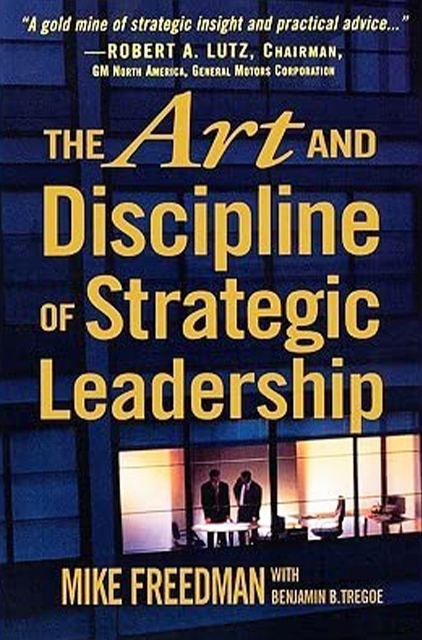 The Art and Discipline of Strategic Leadership
Mike Freedman