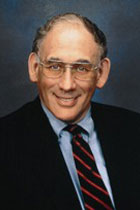 James Belasco
Dr. James Belasco is a pragmatic, rigorous, and dynamic visionary whose revolutionary ideas and practices are creating dramatic improvements in organizations around the globe. His passion for impacting his clients' business triggers change among individual leaders and sets the stage for organizational redirection and re-engineering.
He is Founder of San Diego State University's Management Development Center and Co-Founder of The Financial Times Knowledge Dialogue, a video conference network that connects executives with the world's greatest leaders.
The world's leading companies have embraced Dr. Belasco's research and teachings on business strategy, leadership, change management, and competitive advantage. Speaking to corporate audiences, he opens the door to individual and institutional change, and fosters new-found energy for dynamic leadership that empowers, rather than stifles, breakthroughs.