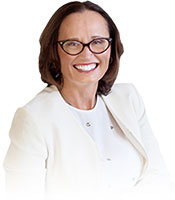 Dr. Karissa Thacker
Karissa is founder and president of Strategic Performance Solutions Inc., a management training and consulting firm dedicated to elevating people to reach their highest potential and career satisfaction. Over the past two decades Karissa has done just that for countless individuals, working with nearly half of the Fortune 500® companies to drive performance and leadership growth. She specializes in executive coaching and development that balances on-the-job performance with the need for sustained personal fulfillment.
Karissa is often quoted in The New York Times, The Wall Street Journal, Fast Company, Forbes, MSNBC, and many other major outlets, and is a sought-after authority on the subject of authentic leadership. Her articles have appeared in the Harvard Business Review, Business News Daily, and elsewhere. She is the author of The Art of Authenticity (Wiley, 2016), a guidebook on how to transform your career by tapping into your authentic self.
Karissa earned her doctorate in psychology from Spalding University and later served as a researcher with General Mills in the strategic growth arena. She also served as a senior consultant at RHR International, a global executive-development firm. Currently she serves as an adjunct professor in the MBA program at the University of Delaware's Lerner School of Business.