Amit Mukherjee
Dr. Amit S. Mukherjee founded Ishan Advisors, an executive education and strategy consulting company in 2004. Over his career, he has been a consultant, a line executive, and an educator/researcher. He has lived in three countries–the U.S., India and France–and worked in others around the world. He speaks three languages fluently and in order to complete his doctoral thesis, managed to use a dictionary to learn enough of a fourth. An MBA from the Darden School, and a Bachelor of Engineering (Honors) from BITS (India), complement his doctorate.
Prior to forming Ishan, Amit's consulting experience came in two phases. Most recently (2001-2004), as Vice President and Strategy Advisor, he started and led Forrester Research's strategy consulting practice. From 1994-1998, Amit was at Arthur D. Little, where he became Director (i.e., partner) in record time and served on two practice leadership teams (one of which he co-founded). In these positions, Amit developed business, innovation, organizational and technology strategies for top executives, including CEOs and Board members, of some of world's best-known companies in the high technology, consumer goods and healthcare sectors. In addition, his Arthur D. Little teams often applied his doctoral research to improve client operations and develop new products.
Amit's line management experiences also came in two phases. He was the Chief Technology & Strategy Officer of TurboChef Technologies (1998-2000) and a junior manager at American Express Bank (1983-1986). In the former role, as a member of the strategic alliance leadership team led by Maytag's CEO, he oversaw technology transfer to Maytag and guided a $100 million residential product launch. He also led the development of next-generation technology and negotiated IP creation partnerships with blue chip organizations.
Finally, Amit gained his educator/researcher credentials from 1986-1994. He earned his Doctorate from the Harvard Business School after doing extensive field research in Europe on the use of knowledge to compete effectively. He then served as an Assistant Professor at INSEAD and very briefly at Georgetown University. At INSEAD, he taught technology and operations management in the Executive, MBA and Ph.D. programs. In addition to powering Arthur D. Little's Minimalist Manufacturing consulting service, his research resulted in two co-authored, highly cited papers published in the top-tier peer-reviewed journal, Management Science.
Amit and his family live in Watertown, Massachusetts. He enjoys hiking, cooking, traveling and reading. He still gets wistful about the days when he had time to enjoy cricket. One of these years, he plans to take up horseback riding.
More From The Author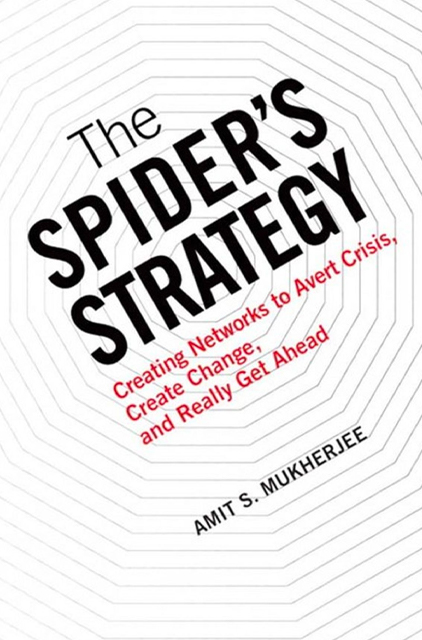 The Spider's Strategy
Amit Mukherjee