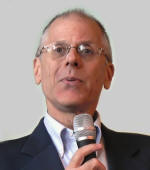 William Miller
William C. Miller is an internationally recognized expert on values-centered creativity and innovation. Prior to founding the Global Creativity Corporation in 1987, he was head of Innovation Management at SRI International (Stanford Research Institute). Each year from 2003-2007, Leadership Excellence has named William as one of the top 30 thought leaders on leadership worldwide. His unique insights into "whole person" innovation provide clients with exciting new ways to foster the leadership and culture required for values-centered innovation.
IEEE-USA, the world's leading professional association for the advancement of technology, has published a special e-book edition of William Miller's latest book: The Innovation Process – Energizing values-centered innovation from start to finish. To read an interview with William conducted by Georgie Stelluto, IEEE-USA Publishing Manager, click here.
Two of William's four books – Flash of Brilliance and The Creative Edge – were rated among the top 30 business books of the year in the USA by Soundview Executive Book Summaries. His audio program Creativity: The Eight Masters Keys was the first audio-tape training program ever endorsed by Fortune magazine. In 2003 Sounds True Inc. released his audio program, The Art of Spiritual Leadership in Business.
William has been a Guest Faculty member at the Stanford University Graduate School of Business and the Sri Sathya Sai Institute of Higher Learning in India. He has consulted and delivered keynotes in a variety of countries such as: India, China, Japan, Korea, Singapore, England, France, Holland, Italy, Czechoslovakia, Romania, Canada, Malaysia, Finland, Philippines and the USA.
Including his experience as head of Innovation Management at SRI International, William has consulted with over 100 corporations worldwide, such as:
AT&T, Charles Schwab, Chevron, Ciba Geigy, Compaq, Disney Institute, Dow Elanco, DuPont, Eli Lilly, Exxon Chemical, Hewlett Packard, IBM, Kraft Foods, Levi Strauss, Marion Merrell Dow, Monsanto, Motorola, Nike, Northern Telecom, Philips Electronics, Pillsbury, Pizza Hut, Procter & Gamble, Samsung, Searle Pharmaceuticals, Shell Canada, Silicon Graphics, Taco Bell, and 3M. 
William has published over two dozen articles on innovation, has been quoted in numerous media, including Fortune Magazine and the US News & World Report, and interviewed on PBS radio and on CNN-TV.