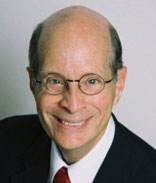 Thomas Connellan
When companies like Marriott, Neiman Marcus, and GE want to take performance to another level, they all turn to one man Tom Connellan. Selling Power Magazine labeled him one of seven "tough talking and truth telling" keynote speakers.
And with good reason. Whether it's an hour-long keynote or a day-long interactive session, Tom Connellan's unique combination of solid research, street-smart business sense, and straight-shooting delivery will make his appearance a meeting highlight.
A former Program Director at the University of Michigan Business School, Tom Connellan brings depth and breadth to your meeting. As a company founder and former CEO, he knows first-hand what it takes to grow a business. Tom Connellan started a service company in the health care field and built it into a network of 1200 instructors serving 300 hospitals and most of the Fortune 500 firms. He's worked in manufacturing and sales. Tom Connellan knows what it's like to be on the firing line of business during turbulent times and audiences connect with this practical experience.
The author of eight books and numerous articles, Tom Connellan has been quoted in leading publications such as U.S. News and World Report and The New York Times. He's been the Editorial Director of four management and human resource magazines, a first level supervisor, and a company president. His New York Times Bestseller, Bringing Out the Best in Others! also appeared in the number one slot on Amazon's Leadership, Business, Coaching, and Relationship Bestseller lists.