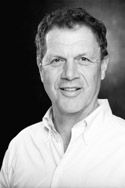 Robert Hargrove
Robert Hargrove is a world leader in the realm of executive coaching. He is the author of Your Coach In a Book (JosseyBass, June 2004) and the paradigm smashing work Masterful Coaching. Robert has also authored as E-Leader: Reinventing Leadership in a Connected Age, the best selling Masterful Coaching Fieldbook, and Mastering the Art of Creative Collaboration, the book that BusinessWeek called 'innovative…, timely, and a must read for everyone doing business in the global arena.'
In 1999 Linkage Corporation surveyed  over 100,000 decision-makers interested in leadership and executive coaching about the people they felt  were the top authorities in the field. Robert Hargrove was selected as the single most influential authority out of a field of fifty.
Hargrove has pioneered a process called Masterful Coaching, the Method, which has been adopted by  leading companies and business schools around the world. Mr. Hargrove's coaching method is based on inspiring  leaders to come up with innovative ideas and fresh approaches in complex business situations where  there are no easy and obvious answers. His approach is based on integrating performance and development, whereas most executive coaching programs tend to use a psychological or mechanistic approach.   
Hargrove has personally coached CEO's and executives in the top management group in companies like  AIG, Adidas, Fidelity Investments, Zurich Financial Services, Estee Lauder International, Royal Insurance, ConocoPhillips, Royal Dutch Shell, Sun Microsystem, Philips Electronics, and Accenture. He has been the primary business guru or designer of many top executive leadership development  programs, culture change efforts, and many breakthrough projects.   
He is founder of the Masterful Coaching worldwide network of the top world-class executive coaches  who can meet the needs of major corporate clients in the United States and around the world. He was   former director of the Harvard Leadership Research Project and co-founded Innovation Associates with  Peter Senge, author of The Fifth Discipline, the Art and Practice of the Learning Organization.   
Prior to his leadership work inside major business organization, Hargrove created a company called   Relationships, Inc. that focused on leadership and organization transformation programs. He personally  trained over 30,000 people in transformation seminars that lasted four days. It was in these programs that he learned how to inspire, empower and enable leaders to bring about fundamental changes in who they are, their mindset, and behavior.